Imagine a new joiner is working from home and they want to find out what your company expenses policy is before they book travel. They've tried emailing a colleague, but they get an out of office saying they are on holiday and won't be back until next week.
Your employee is stuck, they spend an hour searching to hunt this information down – before giving up and booking travel they hope is compliant.
With a Power Virtual Agent the experience could have been so much better, no wasted time, no anxious booking and one less email to return back from holiday to.
Power Virtual Agents are no-code chatbots which can be built in days to help both employees and customers get information from your business and resolve issues quickly on their own.
50% of work activities globally have the potential to be automated using current technology. (IDG – Big Data Survey)
At FITTS we have built Power Virtual Agents for several of our customers and have seen just how impactful they can be. So, what are Power Virtual Agents, and what can they do for you?
What are Power Virtual Agents?
Power Virtual Agents are chatbots that can be built for free as part of your Microsoft 365 or Azure licence. They give your organisation a quick and easy way to provide bespoke AI-powered chatbots to answer questions and queries from your customers or employees.
The bots can be published to virtually any destination, including Microsoft Teams, your intranet, your public facing website, Facebook, and other popular places.
For a Power Virtual Agent deployed into Microsoft Teams, employees can simply chat to the bot as if it were a colleague.
Virtual agents use natural language processing to understand what the customer is asking about. It then attempts to resolve their problems using your internal resources (either pre-prepared answers you've written, or from your internal content). If this doesn't help, Power Virtual Agents can funnel people along to a human advisor.
Chatbots are growing in popularity on a global scale. For example, where we have built Power Virtual Agents for our clients, surveys show that 80% of consumers report a positive experience with the tools.
Benefits of Power Apps
Build A Chat Bot In A Day Without Code
One of the most appealing features of Power Virtual Agents is that they are low or no code solutions. Anyone can begin building Microsoft chatbots, even if they don't know how to write programming languages.
That said, with a knowledge of Microsoft's Power Platform, you can make them even more sophisticated. Thanks to an easy, user-friendly builder interface, the configuration can be done rapidly and constantly updated to evolve with your needs.
Power Virtual Agent Builder Interface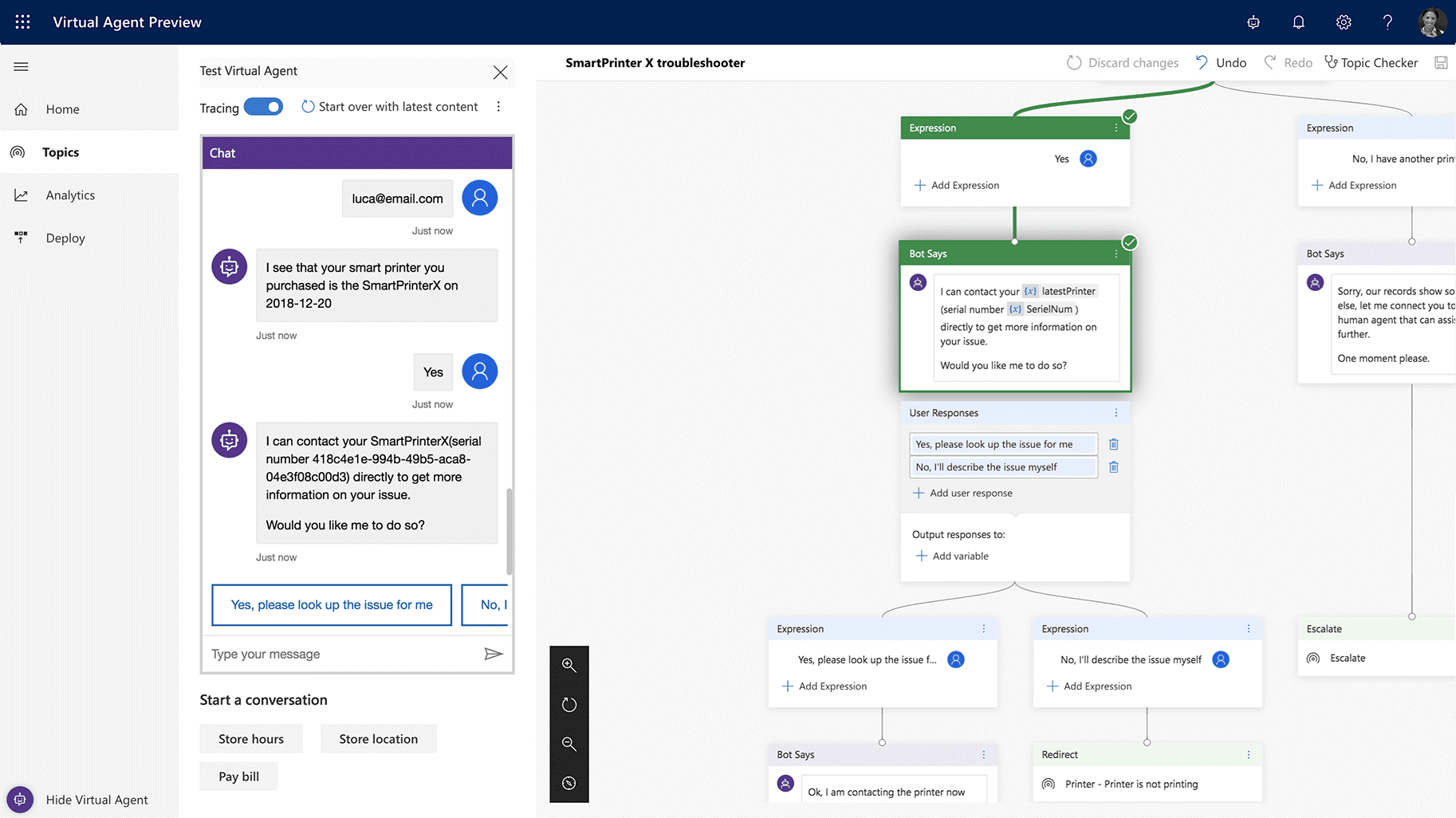 More than just chatbots
Intelligent: Power Virtual Agents' 'intelligence' draws on enormous amounts of data that Microsoft has collected about how people interact with chatbots. This means that they are better at understanding what people are requesting – even if they don't use specific trigger terms. Power Virtual Agents have been trained on many languages and in different cultural settings, so they can support natural conversations in over 40 different languages.
No (or low) code: Power Virtual Agents require no coding knowledge, so non-technical employees can start to build their own virtual agents in minutes!
Power Apps gives you the means to intuitively create custom business apps and quickly solve business problems.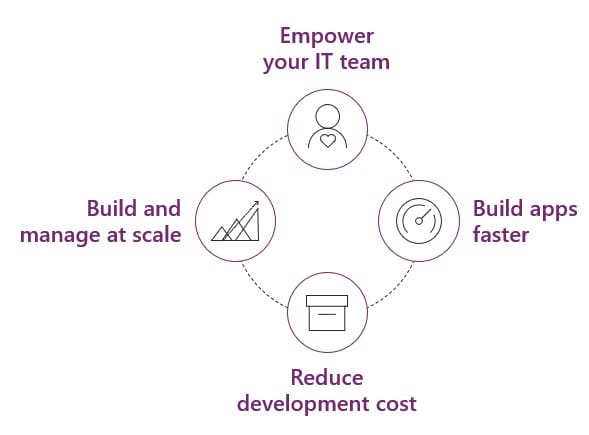 Related: Using Microsoft Power Apps
Benefits of Power Virtual Agents
At FITTS, we have helped several organisations to build Power Virtual Agents that support their employees and customers with a wide variety of problems. Some of the key benefits of Power Virtual Agents that our clients are experiencing:
Save precious time for your employees and customers
Endless possibilities to customise and tailor to your operational and business needs including out of the box integrations with globally used 3rd party tools and services
Reduce low-value repetitive tasks for staff who regularly answer basic queries, free up time for impactful work
Power Virtual Agents are available in numerous languages so you can serve global workforces and customer bases with a single solution
Extract more value from your Microsoft 365 subscriptions without having to invest more in costly licenses


Power Apps drives business transformation
Ready to begin using Power Virtual Agents?
With their ability to improve your employee and customer experience, no code development, and by giving you a method to solve problems fast, Power Virtual Agents can deliver serious benefits to your business. At FITTS, we have extensive experience of building Power Virtual Agents, as well as training our customers to build their own chatbots too.
To get started using Power Virtual Agents, get in touch with us today.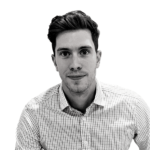 Tom has 8 years of experience working with global teams to deliver strategic digital transformations - helping clients improve collaboration, ways of working, business processes, operations and mobility.
In 2018, Tom opened the East Africa office for FITTS in Nairobi. He is passionate about the impact modern workplace technology is going to have on the way Sub-saharan Africa competes in the global marketplace and the role FITTS can play in supporting that journey.
During the past 8 years of digital transformation, Tom has worked in London, Saudi Arabia and Nairobi for clients such as Barclays Bank, UK Department of Work And Pensions, Unilever, Saudi Telecom Company, MS Amlin Insurance and a nuclear energy generator. However, regardless of the geography or the industry the ultimate objective has been the same – drive change that re-imagines the way people work every day.