Confused by Microsoft's cloud productivity licences?  You are not alone.
Since the launch of Office 365 in 2011, Microsoft's suite of cloud-based productivity technologies has grown exponentially. With well over a million companies paying for Microsoft licences to this suite of products, it has been an enormous success.
However, if you are new to the Microsoft world, figuring out which subscription plan you need is a daunting task. There are hundreds of licences and thousands of possible combinations available to a businesses (and even more when you consider government, education or non-profit options) – how on earth do you figure out which you need?
To narrow it down, here is a quick introduction to Microsoft licences.
Key terms: Office 365 vs. Microsoft 365 and Enterprise vs. Business
When it comes to licence names, Microsoft hasn't always communicated as clearly as you might hope. Over the years, there have been several name changes and regular evolutions of the features you get with each licence. The following points might help clear up some of the confusion.
Office 365 or Microsoft 365?
When Microsoft first launched its cloud productivity services in 2011, it called it Office 365. However, as of April 21st of this year, it changed much of the branding to 'Microsoft 365'. This left many people scratching their heads because some of the products were already branded 'Microsoft 365'. What's more, some of their licences still bear the name Office 365. For example, you can buy licences for Microsoft 365 E3 and still also purchase Office 365 E3. Confusing right?
To put it simply, if you buy something with 'Office 365' in the name, you will mainly be getting productivity tools (think email, Word, Teams, SharePoint). If you buy something with 'Microsoft 365' in the name, you get all the productivity tools plus numerous security and management features, and the Windows 10 operating system.
Unfortunately, you can't get too comfortable because Microsoft licence branding is an evolving process, so those definitions are likely to change. It might be better to focus on what you get with the different families of licence instead.
2 major licence families: Enterprise and Business
Microsoft's licence families are a little easier to understand. Broadly speaking:
'Business' licences are targeted at smaller companies – often (but not always) up to 300 employees. Licences start with the relatively limited 'Business Basic' and progress to the more powerful 'Business Premium'.
Enterprise licences are targeted at larger companies (i.e. 300 people and up – although you can be smaller than this). The key difference is that the Enterprise family gives you more power – greater amounts of storage, better threat protection, enhanced features.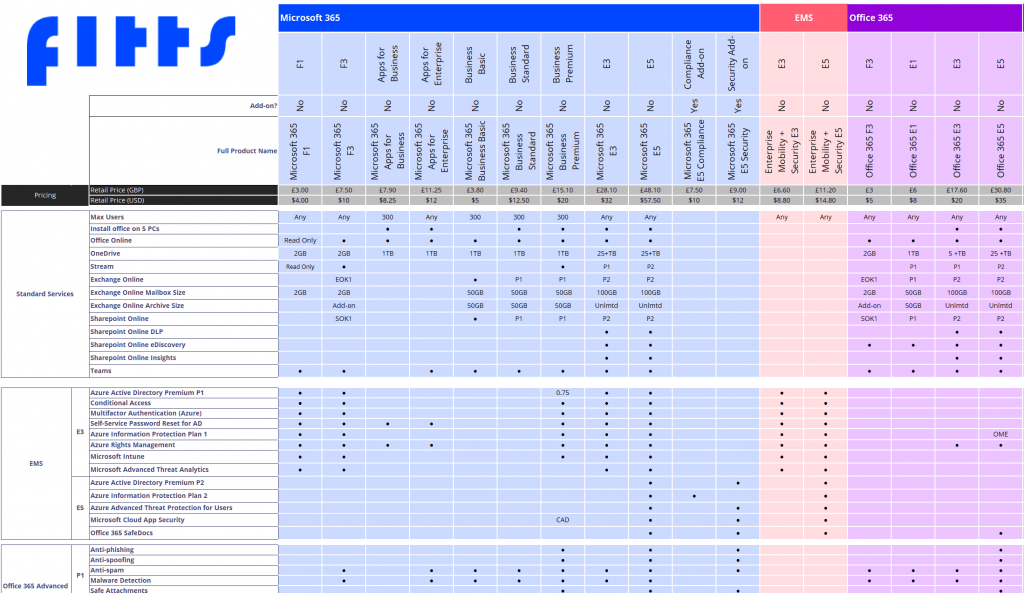 Download our full Microsoft licence comparison chart here
How to choose the right Microsoft licence for your company
If you spend too long comparing Microsoft's different licences, the sheer quantity of options can be overwhelming. The good news is that when you work with a Cloud Solution Provider (like FITTS); you can be flexible with your licensing and you can add or remove features and switch between licences as you go. That's why we recommend you spend less time comparing feature lists, and more time thinking about the kinds of technology your organisation really needs.
To do this, start by:
Working out how many licences you need
As noted above, some of the Business licences are restricted to 300 users. So, depending on how many employees will be using the technology, this will be a key consideration.
Identify Your Strategic Goals
What do you really want from corporate technology? Are you keen to create a highly mobile company with staff travelling continually? Are you focused on clamping down on security and safety? Do you plan to link up your offices around the world?
By defining what you hope to achieve with cloud technology, you can narrow down to the features you really need.
Define your level of technology usage
Some companies need little more than an email account, spreadsheets, word processing and presentation software to be productive. Others require intensive collaboration tools or have employees continually moving between sites who need mobile access to data. The kinds of work your teams do will therefore influence the licence you choose.
What is your budget?
Microsoft 365 Business Basic is priced at just £3.80 ($5 USD) per user per month, whereas Microsoft 365 E5 will set you back £48.10 ($57.50) per user per month, and prices vary widely between these extremes. Having a clear idea of your budget will also narrow down your options.
Support with Microsoft licencing
For some companies, the choice of Microsoft 365 licence will be fairly obvious. For many others, however, it can be a confusing and disorientating process.
And that's where FITTS helps. We work with medium and large businesses to identify which Microsoft features they really need and help them get the best deal for a subscription that meets those needs – without paying more for unnecessary extras.
For help and support with Microsoft 365 licencing, contact us today.
Join our webinar on 8th October at 1pm (UTC +1) to learn how to spend less on your Microsoft licences.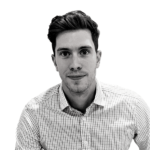 Tom has 8 years of experience working with global teams to deliver strategic digital transformations - helping clients improve collaboration, ways of working, business processes, operations and mobility.
In 2018, Tom opened the East Africa office for FITTS in Nairobi. He is passionate about the impact modern workplace technology is going to have on the way Sub-saharan Africa competes in the global marketplace and the role FITTS can play in supporting that journey.
During the past 8 years of digital transformation, Tom has worked in London, Saudi Arabia and Nairobi for clients such as Barclays Bank, UK Department of Work And Pensions, Unilever, Saudi Telecom Company, MS Amlin Insurance and a nuclear energy generator. However, regardless of the geography or the industry the ultimate objective has been the same – drive change that re-imagines the way people work every day.