August update
Welcome to your Microsoft Monthly Insight!

In the fast-paced world of technology, innovation knows no bounds, and for tech enthusiasts and businesses alike, staying up to date with the latest advancements is paramount. Among the industry giants leading this ever-evolving landscape, Microsoft continues to be at the forefront, revolutionizing the way we interact with technology and reshaping the future of computing. In this Microsoft monthly insight issue, we break down these advancements coming to you in august into easily digestible nuggets.  
Business Change
In this section, we'll explore the incredible advancements that have emerged since our last update, leveraging the vast array of tools and platforms offered by Microsoft specific to improving employee wellbeing and productivity. 
Outlook: [

iOS & Android] Customizable Compose Toolbar and Drawer
Rolling out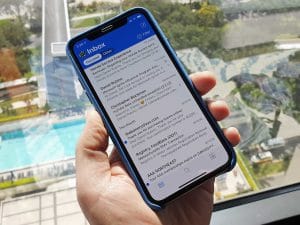 Answering emails is a tedious but necessary task in all businesses. Outlook is a widely used email client and personal information manager. Predominately used for emails, outlook has many other features that boost user's productivity including; calendar, Tasks & To-do lists, and robust security measures to keep your data safe. With the latest update, you can now reorder these tools, customize your experience, and make the most of your frequently used actions even easier to reach. This feature is now available on IOS & Android giving you the freedom to stay up-to-date even on the go.  
Microsoft Teams: Live Translated Captions in Meetings on Android and iOS

 
Rolling out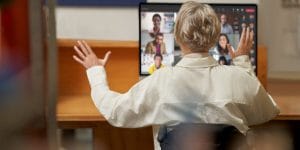 Microsoft Teams is all about staying connected, in the next update Microsoft plans to introduce translated captions for a more inclusive meeting experience. This will allow users to communicate globally and build a more inclusive workforce for those who are hard of hearing. 
Live translated captions will be part of Teams Premium and available on IOS & Android. 
It's important to note that the effectiveness and accuracy of Live Translated Captions may vary based on the languages involved and the complexity of the conversation. While automated translation technology has advanced significantly, it may still have limitations compared to human interpreters. Nonetheless, incorporating such a feature in Microsoft Teams can bring significant benefits to users who engage in global collaboration or require multilingual communication. 
Outlook for the Web: Contact Deduplication

 

 

 
Rolling out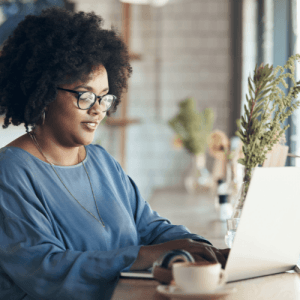 People are at the center of our lives, and we start every digital connection via contacts. Hence, a clean, up-to-date contact list is critical for better collaboration and productivity. Microsoft has announced that cleaning up duplicate contacts just got a lot easier with the de-duplication feature in Outlook Web App (OWA), now you can easily sift through your contacts and streamline your communications.  
Technology 
Last month at Microsoft's Inspire event, they announced lots of exciting updates. With AI's unparalleled ability to process vast amounts of data, adapt to dynamic situations, and learn from experience, it is no wonder that Microsoft is focusing on the power and potential of AI (Artificial Intelligence) Technology. Here are some of our favourite announcements.  
Announcing Microsoft 365 Copilot pricing for commercial customers
Rolling out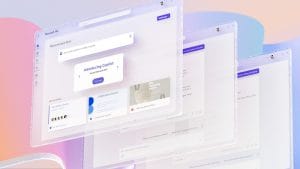 AI continues to be a hot topic, Microsoft 365 Copilot is built on Microsoft's trusted and comprehensive approach to enterprise-grade security, privacy, identity, compliance, and responsible AI — so you know it's enterprise ready. This means: 
Copilot inherits your existing Microsoft 365 security, privacy, identity, and compliance policies.

 

Your data is logically isolated and protected within your Microsoft 365 tenant, and always within your control.

 

At the tenant level, Copilot respects individual and group permission policies.

 
Microsoft 365 Copilot brings a whole new way of working – reasoning over all your business data in the context of your enterprise, including the ability to ask questions and get answers from the web. This will be available for commercial customers for $30 (£23.21) per user per month for Microsoft 365 E3, E5, Business Standard and Business Premium customers when broadly available.  
Is your business ready for Microsoft Copilot? Read more about Microsoft Copilot and how it could boost your organisations productivity.  
Process Mining in Power Automate

 

 
Rolling out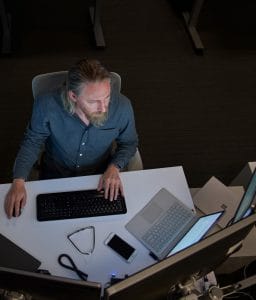 Organizations often have a challenging time identifying blockages in their workflows and how to clear them. To help, Microsoft is announcing the general availability of next-generation AI features within Power Automate Process Mining, providing customers with AI-powered insights to optimize existing processes and drive efficiencies through low-code automation. With Process Mining, users can understand what is happening across their business, use AI that generates insights, app and automation suggestions, and use Power Platform to quickly build the solutions they need. Learn more about Process Mining in Power Automate. 
The new Microsoft AI Cloud Partner Program

 
Rolling out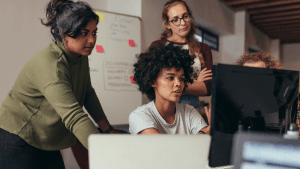 In another milestone, Microsoft Inspire marks the launch of the Microsoft AI Cloud Partner Program, the next generation of their partner program, which empowers every partner to deliver customer value while leveraging Microsoft AI and the Microsoft Cloud. Through the Microsoft AI Cloud Partner Program, they are providing partners with a comprehensive portfolio of investments for all partner business models, at every stage of maturity. 
The Microsoft AI Cloud Partner Program utilizes the entire partner lifecycle, including onboarding, skilling, go-to-market, incentives, and co-selling. Partners get the value and benefits of the previous program plus access to new offerings and benefits specific to AI.  
Thank you for reading our Microsoft Monthly Insight blog, read more information on Microsoft at Resources – FITTS.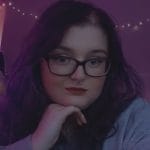 Zoe is a Marketing Executive at Fitts but started out in Business Change giving her valuable insight into the impact our digital transformations have on end-users. She offers key skills in creating visual content for the business with her Media production background.