Multi-national transport business Arriva knew something had to change. The firm was seeing its technology costs spiral, while communication and collaboration problems across multiple geographies were affecting the company's ability to deliver.
Arriva engaged with the FITTS team to streamline its business technology delivery, reduce expenses and improve communication and collaboration.
Getting People Moving: A Transport Firm's Technical Challenges
Arriva is a multinational public transport company. With an HQ in Sunderland, the firm operates train, bus, boat, coach and tram services in 14 countries in Europe and carries 2.4 billion passengers per year. The firm employs over 60,000 people and is comprised of 44 separate business entities. Their technology was being managed by 30 distinct IT departments.
Arriva had encountered a variety of technology problems:
The firm had been running a failed IT project for a year which wasted millions of pounds yet delivered no business benefits
There were significant costs, silos and redundancies due to the fact that the company had 30 IT departments managing 44 business entities
There was minimal collaboration across business units, geographies or between departments in the same unit
The company was essentially paying for many duplicate software license costs due to the high number of business units managed by different IT departments
They had no way to communicate or collaborate companywide
Arriva already used the Microsoft stack but wanted to use the most up-to-date iteration of the software. They turned to the FITTS team to help deliver the solution.
A Timetable for Improvement: FITTS' People-First Approach
We brought together a skilled team of experienced technologists, project managers and business change specialists to address the problems Arriva was facing. The project involved migrating Arriva from its existing set up of multiple on-premises environments to a unified, Arriva-wide Microsoft 365 tenant.
The first stage in the project involved the development of a plan that split Arriva's business units into bite-size pieces – such as Operations, Legal, Business Development, Maintenance and so on. We were then able to migrate each of these departments' technology to the cloud and customise the solution for each.
By breaking the technology and the migration down into smaller chunks we could deliver the technology in multiple drops – rather than trying to deliver it in a single risky 'big bang'.
Microsoft 365 represented a big change in the way Arriva used technology, so we needed to revise its governance model and stakeholder map. This re-engaged the business with IT and allowed us to develop a business-wide change network. We created a joint accountability model, which brought both the project and each business entity to the table to deliver their respective tasks and activities.
To make this change permanent, FITTS' business change team delivered clear communications to staff in multiple geographies, raised awareness with campaigns and provided extensive training.
Reaching the Destination: A Single Collaboration Platform
The FITTS team delivered a unified communication and collaboration platform for Arriva. Since deploying the solution, the firm has experienced:
The entire company can now communicate through Yammer, Email and Skype for Business
Secure document management
They now share documents regardless of location through SharePoint
By unifying licenses across its locations, Arriva reduced technology spending, infrastructure and staff costs.
Aviva reduced travel costs by allowing meetings to be held over Skype for Business. They also terminated unnecessary telephony services.
Improved business-wide collaboration
Engineers, front line and back office staff now collaborate across geographic boundaries and languages
Does something need to change at your organisation? Contact FITTS to talk about your projects today.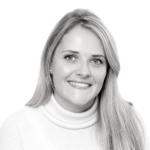 Olivia O'Sullivan is the Head of Marketing at FITTS. Olivia is responsible for the brand and oversees all external communications at FITTS. The purpose of her role is to build brand awareness and drive growth across FITTS service and product lines and accelerate our routes to market through our partners.
Olivia has a proven track record of helping B2B technology brands build a strong presence across a number of platforms.
Before joining FITTS in March 2020, she led pioneering marketing efforts to launch a first of its kind, SaaS solution built from complex machine learning algorithms designed to allow any company, from any industry, to train complete Distributed Learning and Machine Learning models, directly on their own edge devices.
Follow Olivia along on Twitter for her latest insights on winning at B2B Marketing in technology.