An effective strategy is vital to business success. A strategy defines your company's vision, then explains that tactics you will use to achieve it. Without a strategy, it can be very challenging to make decisions or improve the firm's financial stability.
But like so many things over the past 18 months, business strategies have been seriously disrupted by the coronavirus pandemic. In many sectors, the short-term goal of simply staying afloat during lockdowns trumped any long-term thinking. And as we return to something like normal, businesses are adjusting to the fact that many staff will be working from home part of the time in a hybrid home/office blend.
The emergence of hybrid work will inevitably affect business strategies. So how should you adjust for this new era?
Webinar: Business strategies in the age of extreme workplace flexibility
How hybrid working will affect business strategy
As Microsoft CEO Satya Nadella recently wrote in a LinkedIn blog post, "hybrid work represents the biggest shift to how we work in our generation".
This change will affect how companies are run, how they reach their customers and what they see as their priorities. Even if a company's overall vision does not significantly change because of the hybrid working, they will still need to adjust their tactics to achieve their original goals.
Here are just some of the ways hybrid work will affect business strategy:
Processes will be challenged
Many of your previously normal processes and procedures will be disrupted by hybrid working. For example, it might mean that salespeople will no longer be able to invite leads to your head office for big meetings.
Innovation will be impacted
For R&D departments, hybrid working is going to affect your collaboration processes significantly. Teams will need to find effective ways of bouncing ideas off of one another even if they're not all in the same room.
Markets and customers will change
Especially for B2B companies that provide services to other businesses, hybrid working could significantly affect operating models. For instance, a consulting business which regularly sends staff to customer offices will need to adjust how it works.
Example: how hybrid working could change company strategy
Picture an engineering firm whose overarching vision is to be the most efficient project manager in the sector. Over the course of many years, they have optimised their PM techniques to ensure that they deliver work on time and to budget more consistently than their competitors. Their success here depends on a powerful combination of culture, internal target setting and specialised IT systems.
However, hybrid working is likely to disrupt all of the things which set the company apart and which allow them to implement their strategy. They will therefore need to adjust their tactics in order to continue delivering on that vision.
Tactics to support your strategy when hybrid working
Every company is different and has its own specific goals – so there is no 'one size fits all' solution here. That being said, there are certain tactics which will help almost any company adjust to the demands of hybrid working:
Digital transformation is non-negotiable
Hybrid working relies on digital technology. In order to adapt to the era of hybrid working, you will need to select the right digital technologies that support your strategy.
For example, in a company that relies heavily on collaboration for research and development, it will be worth investing in augmented reality tools which allow people to visualise a product regardless of their location.
Practical techniques: Join our webinar to learn hybrid work business strategies
If people are not going to be working in the office together as much as they used to, it will be vital to find ways to ensure continuity of your culture.
For example, if a company has developed a collegiate atmosphere with lots of mentoring and interpersonal training, they will need to select technology that allow this to keep happening.
Personalising hybrid work patterns
Some staff will benefit from more remote working, others benefit from more time in the office. Rather than implementing companywide hybrid policies (i.e., everyone will work remotely two days per week), it might be better to create individualised plans.
For instance, one employee who spends most of her day researching could benefit from having more time at home rather than being in a noisy office. But her colleagues on the customer service desk may work better if they can be in the same room together asking each other questions most of the week.
More strategy: How Microsoft Teams enables business strategy
What will hybrid working mean for your business strategy?
So, how will hybrid working affect your company's strategy and the tactics you use to achieve your vision? By taking the time to reflect on your approach, you will be better prepared for the inevitable changes of this new era in business.
In our upcoming webinar we will be digging deeper into what hybrid work means for business strategies and reviewing some of the tactics and techniques you can use to adjust. Sign up to the webinar here today.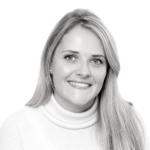 Olivia O'Sullivan is the Head of Marketing at FITTS. Olivia is responsible for the brand and oversees all external communications at FITTS. The purpose of her role is to build brand awareness and drive growth across FITTS service and product lines and accelerate our routes to market through our partners.
Olivia has a proven track record of helping B2B technology brands build a strong presence across a number of platforms.
Before joining FITTS in March 2020, she led pioneering marketing efforts to launch a first of its kind, SaaS solution built from complex machine learning algorithms designed to allow any company, from any industry, to train complete Distributed Learning and Machine Learning models, directly on their own edge devices.
Follow Olivia along on Twitter for her latest insights on winning at B2B Marketing in technology.