Did you know that 40% of employers say over half of the workforce will regularly work from home once the coronavirus pandemic ends?
If your organisation expects to introduce some form of hybrid working – when staff spend part of their working week in the office and part at home – it will be essential to plan to ensure that it is a success.
Every organisation is different and so the specifics of how hybrid working will play out in your business, is of course, unique. In this blog, we explore 10 important considerations that will apply to most hybrid workplaces.
Big picture: Macrotrends for the workplace in 2021
Pros and cons of hybrid working
If you are thinking of introducing hybrid working, it is important to be aware of the pros and cons of this approach.
Pros of hybrid working include:
Allows you to continue social distancing in the workplace
Better work/life balance for staff
WFH enables focus work, while office time supports collaboration
Cons of hybrid working include:
Risks the creation of in and out groups
Makes it harder to separate work from the rest of life
Challenges around maintaining quality relationships with colleagues
To maximise the benefits of hybrid working and minimise the drawbacks, the following ten factors should be considered.
10 factors to consider when introducing hybrid workplaces
As you draw up your hybrid workplace strategy, consider how the following ten factors will interplay with your business:
Policies and procedures
Draw up fair policies which define how hybrid working will function at your organisation. The aim here is to make sure that everyone knows who can work remotely, how many days they can do it, and how to apply for WFH. Creating clear and transparent policies will mean you avoid complaints about unfairness.
Facilities management
One of the main benefits of introducing hybrid working is that it will allow social distancing to continue. And this has important implications for how office space is managed. For example, what happens when a hybrid worker only comes into the office three days per week? Should they be allowed their own personal desk, or should they have to hot desk? One possible solution here is the use of a desk reservation system that lets employees reserve space the day before they travel in.
Technology training
Hybrid working depends on the use of a variety of new technologies that will be used by both remote workers and in-office staff spanning multiple generations – including cloud platforms, VPN's and digital whiteboards. Everyone will need to be provided with digital skills training so they can make the most use of this tech available to them.
Introduce wellbeing policies
Designing wellbeing policies for a world where people work remotely more often is also an important consideration. You can use things like Microsoft Viva Insights to help people understand how many hours they are working and give them alerts to avoid burnout. If you are running lots of online meetings, it is also important to consider things like visual and hearing disabilities – Microsoft Teams' accessibility features can help here.
People management issues
If some people are working remotely more often, it will be important to provide clear guidelines about how this will affect output expectations and performance reviews. Give people clear metrics for how their work will be judged.
Consider company cohesion
If people do not see each other in person so often, this could affect relationships and how people collaborate with colleagues. It is therefore valuable to think of ways that company culture and cohesion can be actively fostered. This might require weekly lunch sessions or other team-bonding activities.  Microsoft Viva is a recognition that employee experience is crucial to productivity, well-being and retention. It represents an important step towards addressing a number of common challenges around how people use technology at work
IT security
Remote working increases the risk of security breaches, especially if people are carrying company information on devices while commuting. It is also easier for criminals to burgle your employees' homes than to break into company offices. Implementing IT security models that match this reality will be important.
Learn more: What is a security conscious culture?
Choose the right technology
During the coronavirus lockdown, IT departments did a fantastic job of setting up virtual private networks and video conferencing systems that allowed businesses to keep working. However, in the long run it will be worth considering migrating to cloud environments like Microsoft 365 which provide the best technology and higher levels of security. Perhaps your business already migrated to Microsoft 365 but haven't realised all the features and benefits yet?
Review related policies
If more of your staff are working remotely, this will affect other policies including things such as expenses, data protection and company devices. You might want to reconsider these policies in the light of remote working and decide, for example, which expenses can be claimed for home office equipment.
Think about onboarding
One of the important implications of a hybrid workplace is that it becomes much more challenging for new staff to integrate with the company culture and get to know their colleagues. It will be useful to develop new ways for staff to meet their teams and for company culture to be disseminated across the organisation. This could involve more video conferencing calls or the use of social features within unified communication tools like Microsoft Teams chat or channels.
All about change management
Ultimately, introducing a hybrid workplace is all about managing change in your organisation and choosing the right technology to support your vision.
At FITTS, our focus is discovering and enabling the right workplace for you. We ensure that the technology provided is just what you need to optimise your business—no unnecessary frills or tassels. Just what you need. We'll discover, plan and build your perfect hybrid workspace. And our dedicated team will roll it out smoothly, and make sure it's adopted widely, and accessible by all.
Read our Guide to business change management to learn how this works, or contact us for a free consultation with one of our modern workspace consultants today.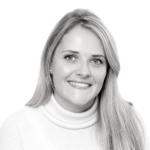 Olivia O'Sullivan is the Head of Marketing at FITTS. Olivia is responsible for the brand and oversees all external communications at FITTS. The purpose of her role is to build brand awareness and drive growth across FITTS service and product lines and accelerate our routes to market through our partners.
Olivia has a proven track record of helping B2B technology brands build a strong presence across a number of platforms.
Before joining FITTS in March 2020, she led pioneering marketing efforts to launch a first of its kind, SaaS solution built from complex machine learning algorithms designed to allow any company, from any industry, to train complete Distributed Learning and Machine Learning models, directly on their own edge devices.
Follow Olivia along on Twitter for her latest insights on winning at B2B Marketing in technology.