Imagine it's your first week at a new job in the middle of lockdown. During the onboarding process, you fill out reams of forms and introduce yourself virtually to colleagues while figuring out what you're supposed to be doing. People are using acronyms you don't understand, you don't know about company processes, or where to learn about your tasks. In short, it's pretty overwhelming!
Microsoft Viva is a new attempt to deal with this kind of scenario. Launched on February 4th  2022, it is billed as an 'employee experience platform'. Viva is designed to streamline lots of different technologies, information and apps and bring them into Microsoft Teams in a way that's relevant to end-users.
So, do you need Microsoft Viva? Let's learn more about what it is and how it's supposed to help.
What is Microsoft Viva?
Businesses today are awash with apps and technologies which are designed to improve how people work. This includes intranets, learning management systems, knowledge retention databases and all sorts of apps for things like booking time off.
The problem is that many of these solutions are under-used. People don't know where to find them and few will go out of their way to access them. Microsoft Viva aims to address this challenge by bringing the apps and information to the user.
It is also very pertinent in the world of remote working. Microsoft is betting that companies are going to continue with flexible WFH policies going forward. This has many positives, but it also means people often feel disconnected from colleagues and lost on their company IT platforms. Microsoft Viva tries to fix these issues.
So, what exactly is Microsoft Viva? It's a platform that streamlines business technology (both from Microsoft and other software solutions) and brings it into Teams. If your organisation invests in Microsoft Viva, you'll get the following experiences:
Viva Connections:

This is a little like the intranet of old. From right within Microsoft Teams, every employee sees a 'front page' of internal comms, policies and benefits.
Example: John joined your company six weeks ago and was given a whirlwind tour of compliance processes. Understandably, he wasn't able to retain all of this information. In the past, he wouldn't have known where to look up those compliance processes again. But with Viva Connections, these documents are accessible in Teams and are just a couple of clicks away.
Viva Insights: Building on some of the existing wellbeing solutions in Microsoft 365, Insights allows employees and their managers to see how they're doing when it comes to work-life balance, productivity and focus. The tool uses AI to identify whether they are close to burnout and can recommend ways to unwind and switch off.
Example: Sheetal is working on a major project. Most evenings while working from home Sheetal stays up past 9:00 PM working on the details. Every day, Insights provide her a summary of how many hours she's worked that week and recomends suggestions for how she can switch off and avoid exhaustion.
More wellbeing: Top tips for accessibility in Microsoft Teams
Viva Learning: Companies invest significant sums of money in employee training platforms, yet they often go underused. If you have to leave your work environment to look up training, you might just give it a miss. But now training modules (from your LMS, LinkedIn Learning, Coursera and more) can be accessed right within Microsoft Teams in the flow of work. Viva Learning uses AI to recommend training content for the individual. Their managers can also assign learning tasks to staff.
Example: Frank is a junior employee who's just been assigned his first big project. However, he's a little lost on where to begin. So, his boss shares several training documents he can view from right within Teams. Frank completes the courses and feels more confident running the project.
Viva Topics: This is an attempt to improve how knowledge management happens in companies – almost like a Wikipedia for your business. From within Teams, you can click on topics to find out more about them, read relevant conversations and contact experts.
Example: Alice is new to your company and finds that a lot of staff are using acronyms and industry jargon she's not familiar with. In the past, Alice would have to look this information up in a knowledge retention database somewhere. But now she can just hover over acronyms and project names and a summary appears of what people are talking about.
Free eBook: Your journey to Microsoft Teams
Why is Microsoft Viva important?
Microsoft Viva is a recognition that employee experience is crucial to productivity, well-being and retention. It represents an important step towards addressing a number of common challenges around how people use technology at work:
Consumer-grade experiences: People are used to high-quality experiences when using consumer-grade technology like Google or Facebook. Microsoft Viva is an attempt to make the many apps they use in their professional lives easier to play with too.
Too much disparate tech and information: Companies amass vast amounts of technology and knowledge which is often impossible to make sense of. By using AI to bring some of the most relevant information into each employee's workflow, Microsoft Viva aims to make better use of this tech and data.
Suited to a world of remote working: Remote working will likely become a permanent feature of our professional lives. Microsoft Viva will support people to learn, connect and manage their time better when they are out of the normal office environment.
Microsoft Viva supercharges the modern workspace
We see Microsoft Viva as an important innovation and a step in the right direction for improving the employee experience with business technology. If you'd like to find out about deploying Microsoft Viva and integrating it into your company's culture, contact us about our modern workspace services.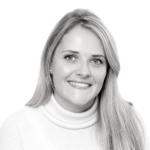 Olivia O'Sullivan is the Head of Marketing at FITTS. Olivia is responsible for the brand and oversees all external communications at FITTS. The purpose of her role is to build brand awareness and drive growth across FITTS service and product lines and accelerate our routes to market through our partners.
Olivia has a proven track record of helping B2B technology brands build a strong presence across a number of platforms.
Before joining FITTS in March 2020, she led pioneering marketing efforts to launch a first of its kind, SaaS solution built from complex machine learning algorithms designed to allow any company, from any industry, to train complete Distributed Learning and Machine Learning models, directly on their own edge devices.
Follow Olivia along on Twitter for her latest insights on winning at B2B Marketing in technology.