How many webinars have you attended over the past year? The pandemic and rise in working from home led to a boom in webinars in 2020. Unable to meet in person for events, talks and networking, professionals turned to this format instead. And while the work from home experiment increased their popularity, this was no flash in the pan – the size of the global webinar market is expected to keep on growing in the next few years.
It is, therefore, no surprise that Microsoft recently unveiled a number of upgrades to its popular Teams video conferencing platform that would allow companies to use it to host webinars too. The features are already available, and they allow organisers to invite up to 1,000 people to attend (and up to 10,000 for a view-only experience).
Until now, most companies have either used Skype Meeting Broadcasts to run webinars or third-party apps like GoToWebinar, WebEx and GetResponse (among others). So, why would you use the Teams webinar tool, and how should you use it?
Why use Teams for webinars?
There are numerous popular webinar platforms out there which your sales and marketing colleagues are likely already using. However, if you use Microsoft 365 technology in other areas of your business, using the new Teams webinar features instead comes with many benefits:
Integrates with your other tech
If you are using Microsoft tools like Dynamics 365 CRM to support your sales and marketing processes, using Teams webinars will make your life a lot easier. For example, data about who attended the events gets fed directly into Dynamics 365. You can then automate follow up emails personalised to those individuals based on their attendance. Many similar integrations are possible.
If you already have a Microsoft 365 licence, Teams webinars will be entirely free of charge to use. This will, of course, save you money on licenses for third-party webinar apps that do much the same thing.
If staff already spend most of their days working with Microsoft apps (such as Teams, Calendar, Dynamics 365, etc.) it will be much smoother for them to set up and run webinars from the environment they spend most of their time in anyway.
Webinars can present certain business security risks – in terms of who attends, sharing information, and the fact that people can take screenshots of your content. If your company already uses Microsoft 365 and has set up permissions and security in a specific way, this will carry through to Teams webinars as well. On the other hand, if staff use a third-party webinar platform, you have less control over who attends, what they can do, and what can be shown.
Security eBook: Learn to configure the Microsoft 365 Secure Score
Teams webinar features
Microsoft have packed numerous helpful features into Teams webinars. If you've ever run a webinar before, you'll be familiar with most of these tools:
Customisable registration forms: Ask attendees to answer questions about their profile, needs and expectations when registering to attend.
Various presenting modes: Microsoft Teams provides a number of presenting modes, including different ways for the speaker to appear 'over the top' of content (in front, to the side, etc.).
Live reactions: Using emojis, the audience can respond to comments, applaud speakers and interact in a 'natural' manner.
Real-time polls: Ask attendees specific questions using snap polls to gauge views on certain themes.
Moderated Q&A: Let attendees ask questions using Teams' chat features.
Attendee controls: Set up rules about who can comment, whether they can share their video and block certain people from commenting.
Reporting tools: Who attended the event, which invitees didn't come, and did people stay until the end?
Host the recording: Generate a recording of the webinar which can then be accessed on-demand.
Export data to Dynamics 365: Ideal for follow-up marketing, communications and automated email campaigns.
More Teams features: Learn about accessibility in Microsoft Teams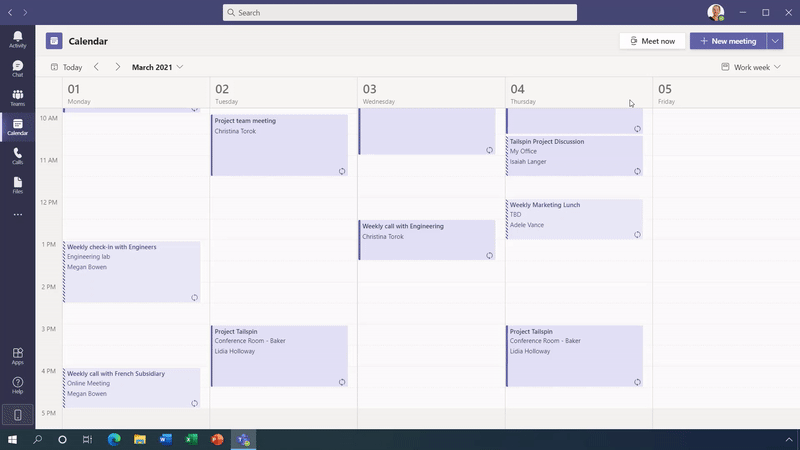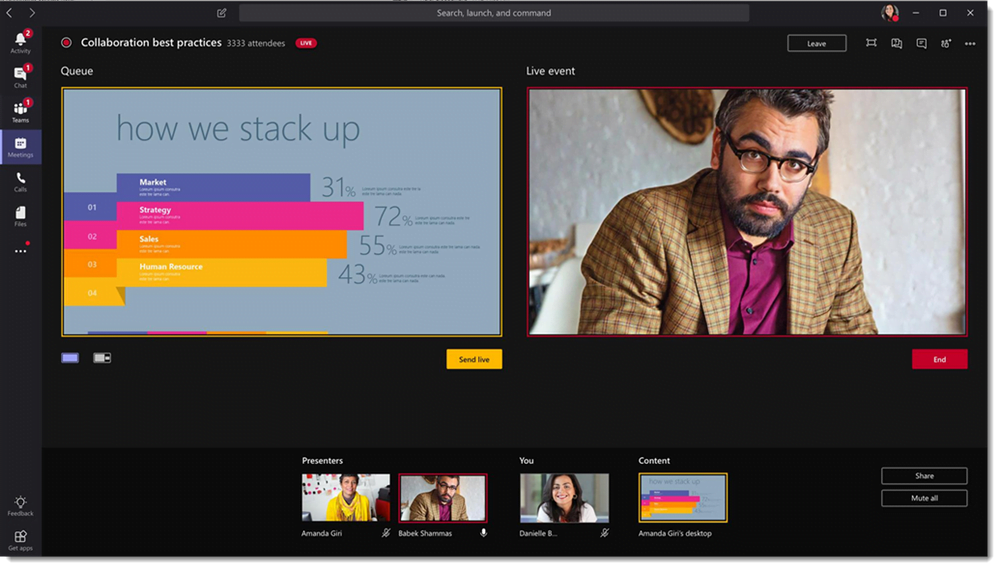 Image depicts live producer mode in Microsoft Teams. Image Source: Microsoft.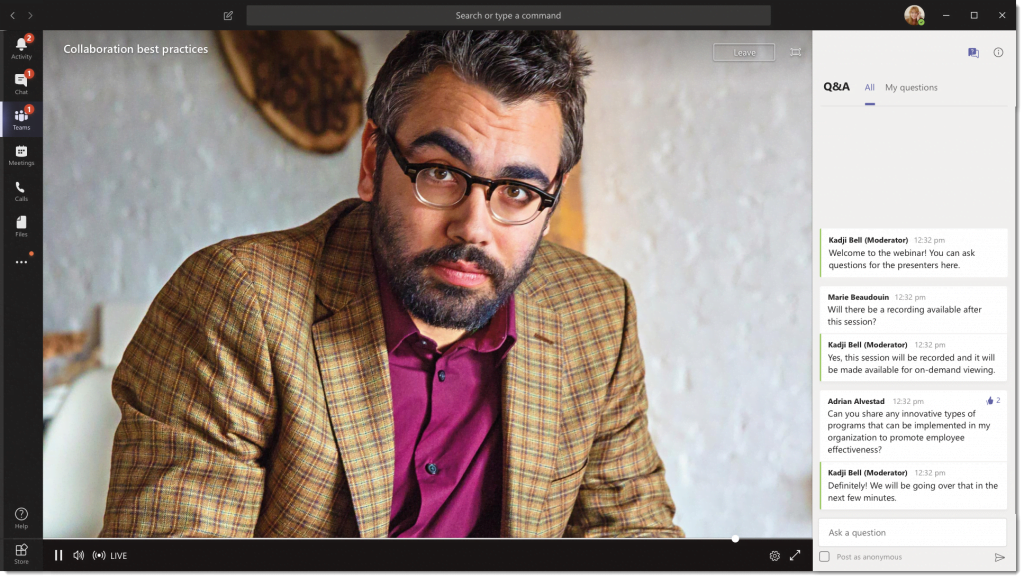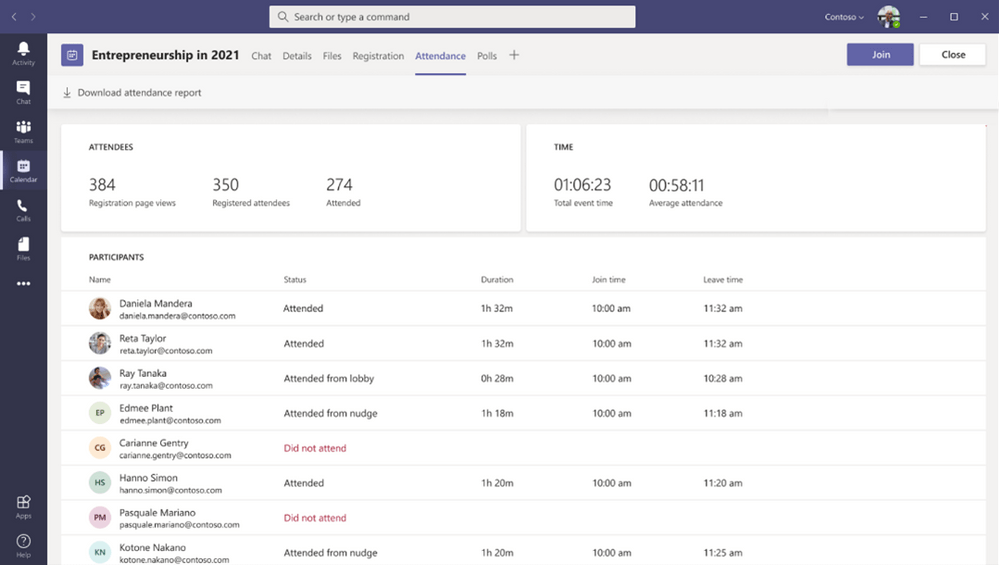 How to run your first Teams webinar
If you've ever set up a conference call in Microsoft Teams before, running a webinar will feel very similar. The process is outlined below:
Set up an event: This can be done in Teams, in your calendar, or from within Dynamics 365.
Create the registration page: The registration page can be customised to include information about the topic, the presenter, and also allows you to ask attendees to answer certain questions.
Webinar URL: A unique URL is generated where you will host the webinar.
Promotion: You can then send the link to your audience with other promotional material. If you used Dynamics 365, you can use its automation features to send follow-ups and track interaction with the email itself.
Host the event: When the time comes, you can use Teams' webinar features to manage the event, create polls, conduct Q&A's and so on.
View post-event reports: See how many people attended, how long for and how they interacted with your content.
Ready to run your first Teams webinar?
The inclusion of webinar features in Microsoft Teams is a very welcome addition to the app. By making it easier to run webinars and hook attendee data into Dynamics 365, you can run events more safely and securely while supporting your company's sales and marketing efforts too. Need help configuring your Microsoft Teams environment? Speak to us today for a free consultation to learn how we can best support your needs.
Keep learning about new Microsoft Teams features in our blog on recent Teams updates.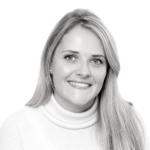 Olivia O'Sullivan is the Head of Marketing at FITTS. Olivia is responsible for the brand and oversees all external communications at FITTS. The purpose of her role is to build brand awareness and drive growth across FITTS service and product lines and accelerate our routes to market through our partners.
Olivia has a proven track record of helping B2B technology brands build a strong presence across a number of platforms.
Before joining FITTS in March 2020, she led pioneering marketing efforts to launch a first of its kind, SaaS solution built from complex machine learning algorithms designed to allow any company, from any industry, to train complete Distributed Learning and Machine Learning models, directly on their own edge devices.
Follow Olivia along on Twitter for her latest insights on winning at B2B Marketing in technology.