When COVID-19 arrived in the UK last February it kickstarted a tumultuous year that changed the workplace beyond recognition. The coronavirus was without a doubt the biggest factor in a year where our professional lives were transformed. But there were other major agents of change too, not least the global Black Lives Matter movement, Brexit and continued concern about climate change.
Organisations of all types are still figuring out exactly what this dramatic year will mean for the way their workplaces operate. However, 12 months on from the start of these rolling crises, the dust is starting to settle, and we can begin to get a better idea of what the long-term impacts will be.
In a year of fundamental workplace change, the following five factors were especially significant.
5 ways the workplace has changed irrevocably
There are few years in recent memory where so much has changed so fast in the workplace. Here are five of the most important developments:
1. Digitisation accelerated
In April 2020, Microsoft CEO Satya Nadella described the impact of COVID-19 by pointing out that "we have seen two years' worth of digital transformation in two months".
All companies are now digital companies, with everyone from local cafes to enormous multinationals making significantly greater use of IT. The trigger of course was lockdowns, which pushed firms to adopt digital technology at a much faster rate than they would otherwise have.
And it wasn't just video calls and online file shares. There has been a dramatic increase in automation – in the United States, for instance, 83% of executives told a McKinsey survey they're adopting automation tools much faster than before. Customer channels are also becoming more digital with firms using chatbots and apps more extensively. Supply chain management is also increasingly turning to digital tools.

Learn more: What change management teaches us about the pandemic
2. Remote working is here to stay
There is little doubt that remote working will become a normal practise in many industries. For example, 20% of UK executives say that one in ten of their employees is expected to work remotely two or more days a week in the future.
This rise in remote work will have a profound impact on how companies behave, especially with regards to human resources. Firms will need to develop their policies to ensure remote workers feel engaged, avoid burnout, and are as productive as possible.
Learn more: 5 tips to smash your remote working routine
3. The Brexit effect
Were it not for COVID-19, there is little doubt that far more attention would be being paid to the impact of Brexit on how businesses work. While the UK is only a few weeks into its new relationship with the European Union, the long-term effects of this break will be significant.
Companies are going to have to adjust to a new way of working and what the separation means for sales, HR and operations. Brexit will require new strategies when it comes to the employment of foreign nationals, import/export procedures, and the way that data is managed and shared across borders.
4. Diversity and inclusion more important than ever
The global Black Lives Matter movement highlighted continued injustices across society. Businesses are recognising they have an important role to play in addressing social inequities and more coherent strategies must be developed to ensure fair employment for all. There is also growing recognition of disabilities and mental health issues, and companies are being asked to find ways of adjusting their workplaces to be more welcoming.
5. The climate crisis
Another ongoing crisis which has been underscored by the events of the past 12 months is climate change. One important lesson learnt from the COVID-19 lockdowns was that businesses can use technology (especially video conferencing) to cut their carbon footprints by reducing business travel. A related development has been the promotion of more active, carbon-neutral travel to work with more workers now cycling or walking their commutes.
Set your business up for a transformed workplace
In the 12 months since the coronavirus pandemic really took off in the UK, we have seen several dramatic disruptions in the world of work. As the dust settles and some of these major events translate into real changes in processes at individual companies, business leaders will need to think long and hard about how to adapt in the most appropriate way.
At FITTS we help organisations adapt to change. There is no 'silver bullet' solution for companies that wish to respond to this new environment. However, enterprise IT can play an important role in helping you to succeed in the 'new normal'. For example:
Investment in IT that's appropriate for your business will be essential in our highly digital era
Video conferencing, communication and collaboration platforms such as Microsoft Teams will be crucial as remote work becomes more entrenched
Cloud-based data management using international servers will help firms adapt to different data management requirements post-Brexit
IT can support your diversity and inclusion initiatives by, for instance, supporting neurodiversity
Efficient file sharing and teleconferencing can support your company's response to climate change
To develop your strategic response to this new business landscape, read our free eBook: An Introductory guide to business change management.
Or, contact us for personalized support and recommendations today.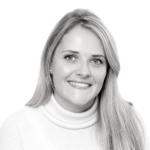 Olivia O'Sullivan is the Head of Marketing at FITTS. Olivia is responsible for the brand and oversees all external communications at FITTS. The purpose of her role is to build brand awareness and drive growth across FITTS service and product lines and accelerate our routes to market through our partners.
Olivia has a proven track record of helping B2B technology brands build a strong presence across a number of platforms.
Before joining FITTS in March 2020, she led pioneering marketing efforts to launch a first of its kind, SaaS solution built from complex machine learning algorithms designed to allow any company, from any industry, to train complete Distributed Learning and Machine Learning models, directly on their own edge devices.
Follow Olivia along on Twitter for her latest insights on winning at B2B Marketing in technology.