Established in 2003, with a purpose to create sustainable employment by enabling small businesses to access finance, Equity for Tanzania [EFTA] is a Tanzanian finance company specialized in serving small and medium enterprises and farmers.

EFTA helped Tanzanian businesses finance over $37m of equipment in 2019 and continues to grow year on year. The team operate out of 8 corporate locations across Tanzania and are supported by a team of remote and international stakeholders and employees.
Maintaining end-to-end compliance
As they are regulated by the Central Bank of Tanzania, adjusting to new hybrid working ways and the technology that it demands comes with additional challenges for EFTA. Ensuring secure access to data and services within the organisation is a matter of regulatory compliance, not just good business practice. The regulations cover everything from data protection, to network security, to identity and access control through to endpoint management.
EFTA's business model also demands that their operations are not just secure but efficient and responsive, to ensure that the organisations who depend on their financing get good value products when they need them.
Despite the challenges and complexities; EFTA's operations are driven by technology and data so it was without question that solid workplace technology foundations would be critical to their growth plans.
EFTA's success and growth over the past 18 years have increased the size of the organisation and added thousands of new customers; the task of maintaining end-to-end compliance was no longer something that could be achieved without specialist support.
Enterprise-grade security controls
in Microsoft 365
To support EFTA's transformation into an agile, secure business that meets both the demands of their regulators and their customers, FITTS partnered with their IT team and business leadership to map both the business operations and the regulatory requirements against potential technology solutions.
Those point solutions were used to form a joined-up strategy and a transformation roadmap was produced.
FITTS leveraged their experience delivering enterprise security for large financial institutions to configure enterprise-grade security controls around the new Microsoft environment for EFTA.
Within their new Microsoft 365 environment, EFTA was able to achieve a zero-trust environment: using Azure AD, Multi-factor Authentication, Privileged Identity Management, and conditional access to control authorisation. Defender for Office and Microsoft Endpoint Manager was deployed to ensure no matter where employees were connecting from, they were protected from threats such as phishing, ransomware, and employee misuse.
Together, FITTS and EFTA led the organisation on the journey from Google to Microsoft 365; migrating data, services, and identities into Azure Active Directory, SharePoint Online, OneDrive, Microsoft Teams, and Exchange Online. This was backed up with training and tips and tricks to drive the adoption of new tools and services.
Equity for Tanzania secures hybrid workplace
with Microsoft 365
EFTA are now able to safely adopt hybrid working by holding conference meetings, collaborating on files, and sharing data within the organisation and with key stakeholders.
Their investment has returned a Microsoft Secure Score of 55.32; more than double the average score for organisations similar to EFTA.
On top of enhancing their security posture, EFTA employees have already started to innovate on top of their new platform, using Power Automate capabilities to remove the manual effort from some of their day-to-day work processes.
Finally, it was important that the new technology investments were sustainable for IT Operations. Making device provisioning easier through Windows Autopilot, and managing all corporate services authentication through Azure AD SSO are two examples of a range of changes intended to make IT operations simpler; so EFTA doesn't need to hire a new IT team to manage their new capabilities.
By partnering with FITTS, EFTA has made a transformation that meets the demands of their regulatory stakeholders, provides their employees with better workplace tools, and delivers an easier-to-manage IT environment. The organisation is more agile with a range of innovative solutions to support their growth and retain the trust of the businesses they serve every day.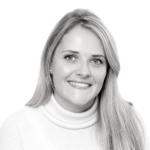 Olivia O'Sullivan is the Head of Marketing at FITTS. Olivia is responsible for the brand and oversees all external communications at FITTS. The purpose of her role is to build brand awareness and drive growth across FITTS service and product lines and accelerate our routes to market through our partners.
Olivia has a proven track record of helping B2B technology brands build a strong presence across a number of platforms.
Before joining FITTS in March 2020, she led pioneering marketing efforts to launch a first of its kind, SaaS solution built from complex machine learning algorithms designed to allow any company, from any industry, to train complete Distributed Learning and Machine Learning models, directly on their own edge devices.
Follow Olivia along on Twitter for her latest insights on winning at B2B Marketing in technology.