Newsweek has announced its first annual rankings for the U.K.'s Top 100 Most Loved Workplaces® list, and FITTS was ranked within the top 100. The 2022 U.K.'s Top 100 Most Loved Workplaces® are the result of a collaboration with the Best Practice Institute (BPI), a leadership development and benchmark research company.
The results were determined after surveying more than 1.4 million employees from businesses with workforces varying in size from 50 to more than 10,000. The list recognises companies that put respect, caring, and appreciation for their employees at the center of their business model and, in doing so, have earned the loyalty and respect of the people who work for them.
James Haworth, CEO at FITTS said: "It's our mission to enable businesses to achieve their full potential through an inclusive people-first approach. We want to support all types of organisations, with people of all abilities, to help them adapt to the ever-changing world of work. Ensuring they have the technological and accessible environments to fit everyone's needs, no matter what language they speak, where they are in the world, or what challenges they may encounter. So to receive recognition for our innovation, expertise, and business success alongside the positive outcomes we deliver for our customers is a testament to the continued commitment and passion of our team at FITTS".
How positive workers feel about their future at the company, career achievement, how much employer values align with employee values, respect at all levels, and the level of collaboration at the firm were the five critical areas measured to gauge employee sentiment. In addition, areas such as inclusion, diversity, equity and belonging, and company response and adaptability to the COVID-19 pandemic, such as return-to-office rules, were identified and analyzed in relation to the five critical areas measured.
"The companies on this list represent the best at placing love at the center of their employee's experience," said Louis Carter, CEO, Best Practice Institute. "The number of applications this year and analysis of survey data reinforces our original findings that love is the strongest predictor of the strength of a company's culture, employee engagement, and satisfaction."
For more information on the award, visit the U.K.'s Top 100 Most Loved Workplaces® website. 
Discover more about us here or to explore working with us, visit our careers page.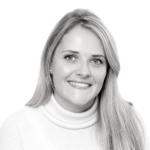 Olivia O'Sullivan is the Head of Marketing at FITTS. Olivia is responsible for the brand and oversees all external communications at FITTS. The purpose of her role is to build brand awareness and drive growth across FITTS service and product lines and accelerate our routes to market through our partners.
Olivia has a proven track record of helping B2B technology brands build a strong presence across a number of platforms.
Before joining FITTS in March 2020, she led pioneering marketing efforts to launch a first of its kind, SaaS solution built from complex machine learning algorithms designed to allow any company, from any industry, to train complete Distributed Learning and Machine Learning models, directly on their own edge devices.
Follow Olivia along on Twitter for her latest insights on winning at B2B Marketing in technology.