December update
Welcome to your Microsoft Monthly Insight!
Bringing you the latest in Business Change and Technology, in easily digestible nuggets!
This festive season we are looking back over some of the Microsoft developments you may have missed this year. Find out what improvements have been made to some of your favourite Microsoft apps and how you can get the best out of Microsoft 365.
Business Change
How can your organization get the best out of Microsoft 365?
Launched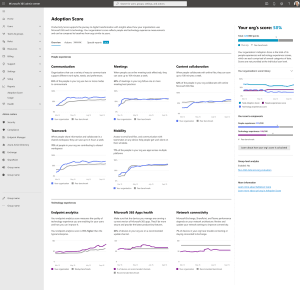 Adoption Score supports the journey to digital transformation with insights about how your organization uses Microsoft 365 and the technology experiences that support it. It is a set of metrics and tools for Microsoft 365 admins and IT leaders to improve the everyday experiences of their workforce and to help organizations get the most out of their investment in Microsoft 365. 
The score is broken down into two categories, People and Technology and further broken down into;
Communication 

Meetings 

Content collaboration 

Teamwork 

Mobility 

Endpoint analytics 

Network connectivity 

Microsoft 365 Apps Health
Your organization Adoption Score is based on the combined scores of these categories. Each category is weighted equally, with a total of 100 points. The highest possible Adoption Score is 800. Each score is calculated over 28-days.
It compares your organization workflow to public research to identify some best practices and associated benefits in the form of organizational effectiveness. For example, Forrester research has shown that when people collaborate and share content in the cloud (instead of emailing attachments), they can save up to 100 minutes a week. 
Read more: Microsoft Adoption Score – Microsoft 365 admin | Microsoft Learn 
Check out this amazing festive gift, available till January 30th 2022 FITTS Holiday Gift – FITTS
What's new in Microsoft Whiteboard this year?
Rolling out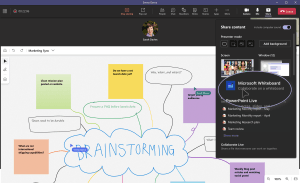 As hybrid work has cemented itself as the new norm for most businesses, ensuring all participants feel included and can contribute their ideas effectively and visually is incredibly important. Here's what's new in Microsoft whiteboard:
60+ Whiteboard templates, allow you to easily set up before the meeting. With the addition of a search bar, you can now quickly find the template you are looking for.
Embedded online videos and links, can add visual richness and make your meeting more dynamic. Avoid fussing with tab and window switching that interrupts the flow of a meeting by including supplemental videos directly on the whiteboard with embedded online videos.
Copy and paste Loop components into Whiteboard from Teams chat and soon from Outlook mail and Word for the web. Loop components in Whiteboard help your team continue adding information to lists, tables and more while they brainstorm in Whiteboard. Changes made in Loop components in Whiteboard will stay in sync across all the places the component has been shared, ensuring everyone has the latest info.
Read more at: What's new for Microsoft Whiteboard – November 2022 – Microsoft Community Hub 
What's new for Outlook in windows?
Rolling Out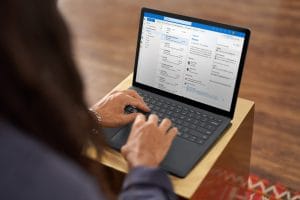 Microsoft has been working diligently to improve the new Outlook for Windows. We're excited to share that, in addition to numerous performance improvements, the following updates have been made:
Quick Steps; Now you can save time with the Quick Steps feature, which shows personalized triage actions that you can use repeatedly to keep your inbox clean and organized, and newsletters or important files in easy reach.
Dynamic calendar column widths; Now you can adjust the width of columns in your calendar, letting you customize how much space to give each day as you view the details of your weekly schedule.
Simplified Ribbon options; Now you see new pared-down Ribbon options that give a sleeker look and feel that is easier to navigate as you email.
Tips in Outlook; Now you can take advantage of tips that let you know about new, useful features as they roll out so you can take advantage of them right away. You can also see Tips in the calendar board view, giving you everything you need to plan your schedule in one place.
Read More: New Outlook for Windows available to all Office Insiders 
Technology 
What's new in Power BI?
Rolling Out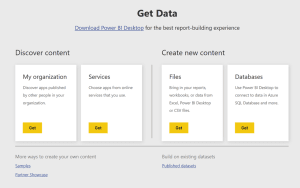 There were some exciting new updates to Power BI this year, with a focus on improving the interface to be more user-friendly. 
New DAX function: EVALUATEANDLOG – This new feature will take any DAX expression, evaluate it and return the result. It will also log the results in a way that you can read out using tools like SQL Profiler. 
Upcoming changes to 'Get Data' – Next year Microsoft are rolling out changes to the get data page. Going forward, you'll be able to access comparable features within workspaces. If you want to upload a file to Power BI, such as a .pbix, .xlsx, or .rdl file to your workspace, you can use the Upload option that was released in November. This option lets you upload files from your local computer or connect to files on OneDrive or a SharePoint site. With this change, you'll no longer be able to connect to files on personal OneDrive accounts.
Subscribe to a report with filters applied – You can now create subscriptions to view a Power BI report uniquely relevant to you! When creating a new subscription, just select the Include my changes option to subscribe to the view of the report as you currently see it, including any changes you have applied. 
Read More: Power BI Blog—Updates and News | Microsoft Power BI 
What's new in XDR at Microsoft Ignite?
Launched
In today's modern workspace protecting your data is vital. Microsoft Defender 365, a leading Extended Detection and Response (XDR) solution, correlates millions of signals from endpoints, identities, email, cloud apps, and more into full incidents that help defenders cut through the noise of individual alerts to see the entire attack kill chain. Here's what improvements have been made:
Automatic Attack disruption to contain in-progress attacks and isolate affected assets – disrupt the attack by automatically isolating infected devices from the network and suspending compromised accounts that are being used by the attacker.
Prevent repeat attacks with a new way to prioritize security recommendations – you will now see a new tab called "Exposures and mitigations". It shows a list of recommended security settings and at the top shows which attacks that recently affected your environment could have been prevented if these settings had been in place. Using this new, prioritized view will enable the SOC and security admin teams to more easily prioritize the most impactful security settings to improve the organization's security posture and create a stronghold against adversaries.
Further unification and optimization of the admin, investigation, and remediation experience –  includes incident-level SOC playbooks that are provided within the incident experience to start remediation. The playbooks include a step-by-step guide with best practice recommendations for how to investigate and respond to the incident at hand. These guides are designed to be interactive and link to additional materials such as documentation, blogs, and videos.
Read more: Automatic attack disruption with Microsoft 365 Defender 
Extend a Teams message extension across Microsoft 365
Rolling Out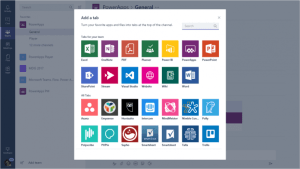 By extending your Teams apps across Microsoft 365, you can now bring production search-based Teams message extensions to preview audiences in Outlook for Windows desktop and outlook.com.
The process to update your search-based Teams message extension to run Outlook involves these steps:
Update your app manifest.

Add an Outlook channel for your bot.

Sideload your updated app in Teams.
If you have an existing message extension in production, make a copy or a branch of your project for testing and update your App ID in the app manifest to use a new identifier
Read more: Extend a Teams message extension across Microsoft 365 – Teams | Microsoft Learn
Thank you all for reading Microsoft Monthly Insight this year, see you in the New Year!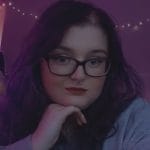 Zoe is a Marketing Executive at Fitts but started out in Business Change giving her valuable insight into the impact our digital transformations have on end-users. She offers key skills in creating visual content for the business with her Media production background.