A digital transformation offers an incredible opportunity to improve how your business works. However, optimism about the benefits of investing in new technology needs to be tempered with some realism too. According to research published earlier this year, 7 in 10 digital transformations fall short of their objectives.
Technology companies like Microsoft know full well that digital transformations can sometimes disappoint. And this is why the company behind Azure and Microsoft 365 created its Cloud Adoption Framework.
So, what exactly is the Microsoft Cloud Adoption Framework, and how can you use it?
What is the Microsoft Cloud Adoption Framework?
The Microsoft Cloud Adoption Framework (CAF) is a six-step process designed to help make cloud migrations more successful. The framework provides comprehensive documentation and guidance about best practise, documentation, and tools to achieve an effective cloud migration. It is a very flexible model and can be used by any company – from a small start-up right through to major corporations.
Recommended: 5 ways Microsoft protects your company's data
The CAF is primarily designed for businesses that are currently using on-premises systems and who want to migrate wholesale to the Microsoft cloud. That said, it can also be used by companies that have already started a migration but need additional help, or those designing a hybrid or even multi-cloud environment.
The Microsoft Cloud Adoption Framework is broken down into six distinct phases:
1. Defining strategy
The first step of the CAF is all about defining why you want to migrate, outlining your ambitions and creating a strategy. It also advises on how to create an Azure business case.
2. Planning
The next stage of the Cloud Adoption Framework is about completing all the essential groundwork for your cloud migration. It is about cataloguing the systems and processes you already use, thinking about your adoption plan and working out which new skills you will need in the cloud.
3. Cloud readiness
Next up, you need to think about the actual process of migrating content, workloads and people to your cloud environment. Microsoft recommends setting up an Azure Landing Zone during this step.
4. Cloud adoption
This stage is all about moving content to the cloud as well as investing in new technologies and adapting your processes for working in the cloud.
5. Governance
In order to manage your cloud environment effectively, you also need to decide how you are going to govern it. This stage is about setting benchmarks for cost management, adoption and security.
6. Management plan
The final stage of the CAF focuses on management. This is all about monitoring your cloud environment, collecting data around usage and enhancing its general resiliency.
Why use the Cloud Adoption Framework?
At FITTS, we normally recommend that our customers use the CAF if they are thinking of migrating to Azure or Microsoft 365. Based on our own experience using the Microsoft Cloud Adoption Framework, we see several key benefits:
Saves you reinventing the wheel
Businesses have been migrating to Microsoft Azure for over a decade – and in that time Microsoft has learned a lot about what does and doesn't work. The Cloud Adoption Framework provides a solid strategy on which to base your migration, based on thousands of businesses' experience.
The Microsoft Cloud Adoption Framework provides complete documentation and guidance for a huge range of scenarios that will give you best practise for a cloud migration. Each step is tried and tested by Microsoft, which means you can trust the guidance.
The Cloud Adoption Framework can be used by organisations of practically any size or industry. It is of course ideal for companies that are currently on premises and want to do a wholesale migration to Microsoft's cloud. But it also offers plenty of scope for businesses that may be halfway through a migration or which are opting for a different model (such as a hybrid cloud). You will find much of the documentation and guidance you need available from Microsoft within this framework.
Helping you implement the CAF
At FITTS, we have worked with many companies to implement the Cloud Adoption Framework when migrating their content to Azure and Microsoft 365. In our experience, this framework delivers a mixture of flexibility and best practise, and it serves as a really good starting point for any business that is migrating to the cloud.
If you are planning on moving to Azure, or if you have begun a digital transformation but the process seems to be going off course, we can support you to get your migration on track using the Cloud Adoption Framework. Contact us today for a cloud adoption workshop that's tailored to you.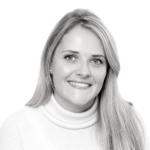 Olivia O'Sullivan is the Head of Marketing at FITTS. Olivia is responsible for the brand and oversees all external communications at FITTS. The purpose of her role is to build brand awareness and drive growth across FITTS service and product lines and accelerate our routes to market through our partners.
Olivia has a proven track record of helping B2B technology brands build a strong presence across a number of platforms.
Before joining FITTS in March 2020, she led pioneering marketing efforts to launch a first of its kind, SaaS solution built from complex machine learning algorithms designed to allow any company, from any industry, to train complete Distributed Learning and Machine Learning models, directly on their own edge devices.
Follow Olivia along on Twitter for her latest insights on winning at B2B Marketing in technology.