Have you ever found yourself doing an annoying task at work, thinking: "Wouldn't it be helpful if we had a tool to do this"? Whether it's a holiday booking form, a field reporting app or an inventory system, there are so many jobs that could be made faster, smoother and less frustrating with handy tools and widgets.
The problem, however, is that this leaves you with the classic business software dilemma: Should you buy a third-party app which can (sort of) do the task for you, or do you pay a developer lots of money to build a tool that's tailored to your business?
But things have changed. In 2017, Microsoft launched PowerApps, a 'low- or no-code' business app development tool which provides a middle way between these two extremes.
What is PowerApps?
PowerApps is a low- or no-code app development suite which is available as part of the Microsoft Power Platform. If your business uses Microsoft 365, then you probably already have a Power Platform license.
With PowerApps, your employees access an app builder where they can map out a user interface, create the logic of an app using drag and drop elements, and then publish it on your company's intranet, on Teams, or another environment. It can be used to make very simple apps (think holiday requests or expense claim forms), but it can also produce powerful, sophisticated tools that support complex workflows and process large amounts of data.
Examples: More kinds of PowerApps
Underpinning PowerApps is the notion of the 'citizen developer'. Rather than relying on highly experienced programmers to build tools, PowerApps is meant to empower far more people to create apps that boost productivity for them and their colleagues. Since you don't need to know programming languages to use PowerApps, you need far less training or expertise to build solutions.
According to a 'total economic impact' report (admittedly, funded by Microsoft), building a tool with PowerApps is about 50% less expensive than getting it built by professional developers.
PowerApps compared to building or buying apps
So, how does building software in PowerApps compare to either building or buying it yourself? The following tables can give you a rough idea.
Costs
PowerApps
Build
Buy

Upfront cost is free since you already have the software as part of your Microsoft licenses.
Remember to calculate the time spent by the employee who actually builds the app based on their day rate.

Upfront costs can be very high – expect £150-£300/hour for UK developers, while international outsourcing can vary from around £20-£200/hour.
The app will also need periodic maintenance.

Readymade apps can vary in price and quality significantly.
You might be able to find 'freeware' for some very simple solutions (but be wary of malware and bugs).
Expect to pay at least £5/user/month for anything more complex.
Strengths
PowerApps
Build
Buy

You can build an app which is customised to your employees and the work they do.
You have total control over the app, data used and activity.
Often quick to build and you can iterate and improve on them as you go.

You can expect an attractive, smooth, and effective app which meets your exact requirements.
Your app development company should be on hand to make further customisations and improvements.

Often relatively cheap, readymade apps will do the job.
They are ready 'off the shelf' – you can get up and running in just a few minutes.
Weaknesses
PowerApps
Build
Buy

You need employees in-house who have a basic understanding of app design and logic.
Not always the most 'attractive' solutions.

By far the most expensive option – even basic apps can cost tens of thousands of pounds.
There will always be some security concerns when outsourcing app development.
Can take quite a long time.

There are significant security concerns when buying software that processes company data.
Apps rarely have all the features you need.
If the provider goes out of business or fails to update the app, you could lose vital data.
Infographic: 10 ways PowerApps is shaping app development
Use what you're already got
Whenever your company decides it needs a new app, widget or some other software, you will have to weigh up the pros and cons of buying, building or using PowerApps in each situation. While we are definitely fans of the Microsoft citizen developer solution, we don't see it as a 'silver bullet' and there are times that the alternatives make more sense. But, given that it's free to use, secure and very effective, it should definitely be a consideration.
To learn more, contact us to speak to an expert or read about our training and get started with PowerApps today!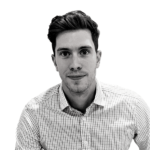 Tom has 8 years of experience working with global teams to deliver strategic digital transformations - helping clients improve collaboration, ways of working, business processes, operations and mobility.
In 2018, Tom opened the East Africa office for FITTS in Nairobi. He is passionate about the impact modern workplace technology is going to have on the way Sub-saharan Africa competes in the global marketplace and the role FITTS can play in supporting that journey.
During the past 8 years of digital transformation, Tom has worked in London, Saudi Arabia and Nairobi for clients such as Barclays Bank, UK Department of Work And Pensions, Unilever, Saudi Telecom Company, MS Amlin Insurance and a nuclear energy generator. However, regardless of the geography or the industry the ultimate objective has been the same – drive change that re-imagines the way people work every day.