The AWS Shared Responsibility Model (SRM) makes it easy to understand your choices for protecting your unique AWS environment, and it provides you with access to resources that can help you implement end-to-end security quickly and easily.
AWS provides Security of the Cloud which protects the hardware, software, networking, and facilities that run your selected AWS Cloud services.
Security is a shared responsibility between you and your cloud provider.
You control your Security in the Cloud which includes updating and patching the guest operating system, associated application software, and configuration of the AWS provided security group firewall. Alternatively, an AWS Partner such as FITTS can help you fulfil your security responsibilities.
The Shared Responsibility Model empowers you with the clarity, flexibility, and control you need to build on the cloud with the utmost confidence.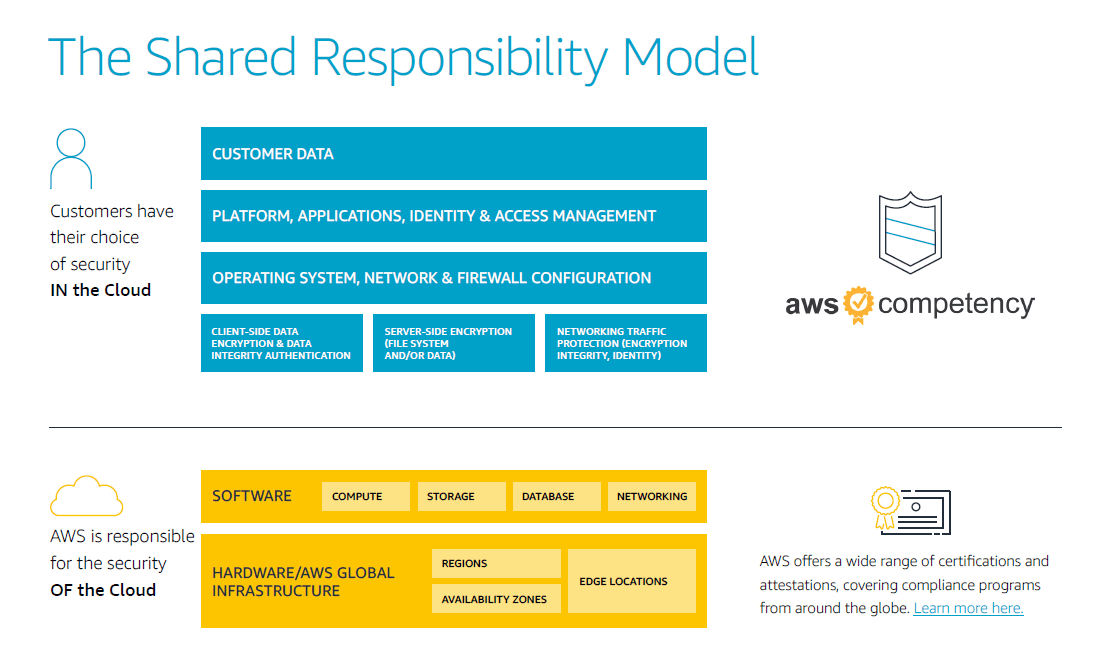 Security is AWS's top priority
AWS offers both a secure cloud computing environment and innovative security services that satisfy the security and compliance needs of the most risk-sensitive organisations.
With AWS, you can transform the way you do business, automating security and compliance tasks to reduce risk so you can grow and innovate faster, freeing up resources to focus on your customers and core business needs.
Build with the highest standards for privacy and data security
With AWS, you can build on a secure global infrastructure, knowing you always own your data, including the ability to encrypt it, move it, and manage retention.
AWS has a world-class team of security experts monitoring their systems 24×7 to protect your content.
AWS provide tools that allow you to easily encrypt your data in transit and at rest to help ensure that only authorized users can access it, using keys managed by the AWS Key Management Service (AWS KMS) or managing your own encryption keys with AWS CloudHSM using FIPS 140-2 Level 3 validated HSMs.
AWS also give you the control and visibility you need to help demonstrate that you comply with regional and local data privacy laws and regulations. The design of AWS global infrastructure allows you to retain complete control over the regions in which your data is physically located, helping you meet data residency requirements.
Scale securely with superior visibility and control
With AWS, you control where your data is stored, who can access it, and what resources your organization is consuming at any given moment. Fine-grain identity and access controls combined with continuous monitoring for near real-time security information ensures that the right resources have the right access at all times, wherever your information is stored.
Reduce risk also as you scale by using AWS security automation and activity monitoring services to detect suspicious security events, like configuration changes, across your ecosystem. You can even integrate AWS services with your existing solutions to support existing workflows, streamline your operations, and simplify compliance reporting.
Automate and reduce risk with deeply integrated services
Automating security tasks on AWS enables you to be more secure by reducing human configuration errors and giving your team more time to focus on other work critical to your business. You can select from a wide variety of deeply integrated solutions that can be combined to automate tasks in novel ways, making it easier for your security team to work closely with developer and operations teams to create and deploy code faster and more securely.
For example, by employing technologies like machine learning, AWS enables you to automatically and continuously discover, classify, and protect sensitive data in AWS with just a few clicks in the AWS Management Console.
You can also automate infrastructure and application security checks to continually enforce your security and compliance controls and help enable confidentiality, integrity, and availability at all times.
In addition, automating in a hybrid environment is made easier with AWS information management and security tools, to integrate AWS as a seamless and secure extension of your on-premises and legacy environments.
Read more about the Shared Responsibility Model at AWS.
Security at the heart of your business
Cybersecurity poses a big risk for companies today. Without expert guidance, it can be challenging to know how to secure your IT environment.
To tailor your security to meet the requirements of your business as you grow contact FITTS to protect your unique environment.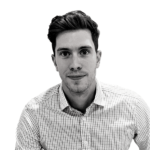 Tom has 8 years of experience working with global teams to deliver strategic digital transformations - helping clients improve collaboration, ways of working, business processes, operations and mobility.
In 2018, Tom opened the East Africa office for FITTS in Nairobi. He is passionate about the impact modern workplace technology is going to have on the way Sub-saharan Africa competes in the global marketplace and the role FITTS can play in supporting that journey.
During the past 8 years of digital transformation, Tom has worked in London, Saudi Arabia and Nairobi for clients such as Barclays Bank, UK Department of Work And Pensions, Unilever, Saudi Telecom Company, MS Amlin Insurance and a nuclear energy generator. However, regardless of the geography or the industry the ultimate objective has been the same – drive change that re-imagines the way people work every day.