Sometimes, readymade software just doesn't fit the bill. Whether you need a tool for an unusual process, a solution to meet industry regulations, or a handy widget for back-office staff, building a custom app is the only option.
Many organisations today are building their own custom apps. Indeed, a Caspio study from 2020 found that 90% of companies view custom applications as a "strategic enabler". Building apps is a great example of how companies innovate. By creating their own software, they can solve unique problems, while making their employees more efficient and productive.
The trouble is, creating new software is expensive and time-consuming. It requires hard-to-find skills, know-how, and a lot of time – meaning most organisations' ability to innovate is constrained.
But this is changing. With Microsoft Azure's suite of custom app development tools, designing, building, and launching your own powerful apps is now easier than ever.
Webinar: Learn how to innovate in the cloud with Microsoft Azure
Barriers to digital innovation
For decades, organisations of all types have built custom applications to help employees be more productive. These unique, innovative apps have helped employees work smarter, cutting out a lot of frustration and repeat work, and solving critical problems. But building them has tended to be a struggle for various reasons:
Development backlog: Many organisations want to build apps to solve their employee's problems. The problem, however, is that their internal development teams already have long backlogs of apps to build, all while maintaining their existing solutions. This means they need to prioritise 'big' projects, while smaller or less eye-catching tools don't get built.
IT skills shortage: Going from an idea to building a functioning app requires specialised development skills and the ability to write in various programming languages. Unfortunately, few organisations have these skills in-house. This means the apps either don't get built, or the organisation must spend significant sums of money outsourcing them.
Awareness of the potential: At many organisations, employees know that they have a problem and would love to solve it. However, they are unaware of what tools are out there and how they could help them.
Microsoft Azure tools are making innovation easier
Microsoft has invested heavily in building solutions to support digital innovation. At FITTS, we support many customers who are creating unique, powerful, and effective apps that are tailored specifically to their needs. And what makes this so special is the fact that, in most cases, these companies are doing most of the building themselves – with just a little handholding and training to get the ball rolling.
For example, Microsoft Power Apps is designed to support so-called citizen developers. Power Apps provides a canvas where users can build out their apps, call up data from databases, publish them and use them with little (or no) coding skills required. Power Apps automatically writes the underlying code, ensuring the apps are secure and robust and means staff with no knowledge of programming languages can build really useful tools.
Then there's Azure Cognitive Services. This is a suite of powerful artificial intelligence tools that companies can use to begin building smart applications. While Azure Cognitive Services require a more advanced level of software development knowledge, using these ready-made tools means your IT team doesn't need to spend weeks building out AI programmes themselves. Instead, they can simply plug Microsoft's AI tools into their custom apps and build something very powerful in no time at all.
Examples of innovative cloud tools
In our cloud innovation webinar, we described several apps that Microsoft customers and partners have built using these tools. So, what might this look like?
Imagine a large supermarket chain that receives hundreds of job applications every month for its various stores. Most of the job applications come in digitally, but some are still submitted via paper forms. Making sense of all these job applications and finding the right staff for each job is hugely time-consuming for the company's HR department. But this is where a custom app in Microsoft Azure could help.
The supermarket could, for instance, build a Power App that uses the Azure Form Recognizer to scan through hundreds of new and archived job applications to find people who have the right skills for each role. Their app could also utilise an Azure ChatBot, which can communicate with would-be employees who want to know what stage their job application is at. It could also use Azure's Graph technology to help learn more about the kinds of people that are applying for different jobs and provide insights to hiring managers.
Ready to start innovating in the cloud?
To find out more about how Microsoft Azure's tools can support you to develop innovative solutions – and to see more examples based on real-world case studies – watch our on-demand webinar.
Or, to learn how FITTS can help you make the most of Power Apps, Azure Cognitive Services, and other Microsoft innovation solutions, contact us today.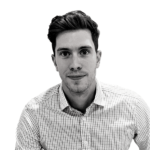 Tom has 8 years of experience working with global teams to deliver strategic digital transformations - helping clients improve collaboration, ways of working, business processes, operations and mobility.
In 2018, Tom opened the East Africa office for FITTS in Nairobi. He is passionate about the impact modern workplace technology is going to have on the way Sub-saharan Africa competes in the global marketplace and the role FITTS can play in supporting that journey.
During the past 8 years of digital transformation, Tom has worked in London, Saudi Arabia and Nairobi for clients such as Barclays Bank, UK Department of Work And Pensions, Unilever, Saudi Telecom Company, MS Amlin Insurance and a nuclear energy generator. However, regardless of the geography or the industry the ultimate objective has been the same – drive change that re-imagines the way people work every day.