Choosing a video conferencing and meetings solution was a decision that was forced upon many of our customers early in the year as they had to rush to accommodate virtual meetings and distributed teams.
Six months later; some of those customers are beginning to return to the office in the "new normal" but some are embracing the opportunity to work more flexibly. On top of that, anyone who took advantage of 6-month free trial offers at the start of the Covid-19 outbreak is going to start paying for their new tools.
So now is the time to be asking – which is the right tool for me and my organisation?
In this blog I share a comparison of Zoom and Microsoft Teams; the two headline acts in the Covid-era.
Zoom

Teams

Features and Capabilities

Zoom gained huge success early in the year thanks to user-friendly conferencing features that Microsoft Teams didn't have. More videos, easier to get started, breakout rooms, custom backgrounds and several others made it a genuine contender as a meeting solution.

Six months later and that gap has narrowed considerably in the conferencing space; and Teams still has a much broader range of functions beyond just unified communications such as seamless integrations with Microsoft 365 productivity tools, 3rd party application integrations, persistent chat to name a few.

Last month Microsoft Teams announced a series of updates that significantly improve the virtual meeting experience. Check out Olivia's summary of 14 new features in her blog for more detail on those.

Accessibility Solutions

1 in 7 people in the UK have a disability; 96% of those disabilities are invisible. You can, and should, make your workplace more inclusive and supportive by prioritising accessibility when selecting your tools.

Microsoft Teams has a wider scope of capabilities so it is expected that it has a wider range of accessibility features; but even comparing like for like capabilities with Zoom, Teams is an outright winner.

Meetings

Closed captions
Autogenerated meeting transcripts for recorded meetings
Participant enter and depart announcements

Meetings

Closed captions
Background blur to assist focus
Autogenerated meeting transcripts for recorded meetings
Participant enter and depart announcements

Collaboration

Immersive reader to breakdown words into syllables, line focus for easier reading, translate or read aloud.
High contrast mode

Chat

Do not disturb mode to limit distractions
In-line language translation
Send and receive voice notes

Pricing

Both products offer free versions that have been popular for business' that were forced to make quick decisions in uncertain times. However, it is likely that over the past 6 months of use; most will have grown tired of some of the limitations and looked beyond the trials and entry-level products.

A compelling reason to step up from the free version of Zoom?

The free version only allows meetings for up to 40 minutes.

Business ready paid for solutions for Zoom start at $20 USD or £15.99 per user per month.

Webinar pricing starts at £32 (~$40) per user per month.

A compelling reason to step up from the free version of Teams?

Wider business needs to get email, calendar, and productivity apps from a paid-for Microsoft 365 bundle.

Business ready paid for solutions for Teams start at $5 USD or £3.80 per user per month.

Webinar pricing included in Teams bundles from £17.60 (~$23) per user per month.

Security

Zoom hit the headlines early on with security concerns ranging from the detailed technical concerns about encryption to the user-led issues around "zoom bombers" joining meetings.

In response, the team at Orange put together a comprehensive comparison of Zoom, Teams, and several other tools in this space. They rightly point out that security is not a one-size-fits-all assessment. The requirements of an SME vs. a government department will differ. However, the data that the Orange team have put together is extensive and well presented – it is a fantastic place to start if you have particular requirements and want to see how your chosen product stacks up to the competition.

Extensibility

Teams is a workplace hub where integrations and extensibility is the very core of what it offers. Zoom does have some extensibility, but this is limited to unified communications functions.

Zoom is a pureplay unified communications tool. It doesn't attempt to compete with Microsoft Teams "workplace hub" offering.

That means that beyond the peer to peer calling and meeting functions – the extensions are still focused on Unified Communications.

Zoom Phone is a relatively new capability; allowing you to use Zoom as your traditional telephone replacement from your PC or mobile app.

Zoom also has a very capable webinar add-on. Right now, Zoom Webinar is a more mature, more capable product than the Teams Live Event offering. Above all, it is much easier to host, produce, share and join Zoom webinars – a real winner if you want to rapidly start delivering premium quality virtual conferences.

Microsoft Teams integrates to varying levels with hundreds of applications. For some people it is a one stop shop for Microsoft 365 tools – you can genuinely work directly within Teams and never need to open up Word, PowerPoint or Excel again.

However, Teams also integrates with non-Microsoft applications like Jira and GitHub for development teams; social media and data gather tools for marketing and salesforce, Zendesk and more for sales teams.

Between all of these applications and Teams there is Power Automate – a tool worthy of their own series of blogs; but in short this is a powerful "code-less" automation system that enables you to push and pull information into Teams automatically. If someone posts something really negative on an employee feedback form; message the head of HR. The sales team wins a big deal with a new customer; post about it on the company's news channel.

Finally, like Zoom – Teams has telephony capabilities (read about it more in our upcoming blog on Teams Telephony and Business Voice).

Teams Live event is a capable webinar tool that for the price point is great value. However, our own use of Live Event during 2020 and customer feedback suggests that if you're a mature webinar host you will probably need to supplement Teams with a dedicated webinar tool.
In Conclusion
Zoom is easy to set-up, easy to use and a feature-rich conferencing tool. It is not surprising that they gained so many supporters at the start of the outbreak. If you are not using Microsoft 365 and don't plan to; Zoom is a great product.
Microsoft Teams is a workplace hub that just so happens to have a compelling offering that has launched a number of updates in the last 6 months to bring it in line with what Zoom offers in meetings and conferencing. If you plan to, or already use Microsoft tools elsewhere in your business; the objections points to using Teams are disappearing quickly.
If you are considering which tool to use for your new normal – contact us to arrange a 1:1 call with a consultant to discuss your business' flexible working strategy.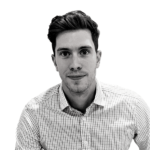 Tom has 8 years of experience working with global teams to deliver strategic digital transformations - helping clients improve collaboration, ways of working, business processes, operations and mobility.
In 2018, Tom opened the East Africa office for FITTS in Nairobi. He is passionate about the impact modern workplace technology is going to have on the way Sub-saharan Africa competes in the global marketplace and the role FITTS can play in supporting that journey.
During the past 8 years of digital transformation, Tom has worked in London, Saudi Arabia and Nairobi for clients such as Barclays Bank, UK Department of Work And Pensions, Unilever, Saudi Telecom Company, MS Amlin Insurance and a nuclear energy generator. However, regardless of the geography or the industry the ultimate objective has been the same – drive change that re-imagines the way people work every day.