On 8th July, FITTS rebrands qith a new logo, company colours and style – you will notice that our website, email footers, business cards and other materials have been given a fresh new look.

What brought about the change and, most importantly, what does it mean for you?
FITTS rebrands to communicate our people-first identity
Since FITTS launched three years ago, we've always emphasised a people-first approach to business technology and change. Our teams have decades of combined experience with deploying systems at large and medium-sized organisations and we know full well that technology will never succeed if the needs of people are not considered first.
In fact, our company vision is for a world where "A secure, digital enabled workforce where technology empowers and inspires people.".
And we wanted to crystallise this concept into our brand's visual identity too.
You will now notice:
The use of curved 'human-like' iconography, fonts and patterns which represent how important people are to our operations
This matches up with blocky 'technology-like' shapes and styles that call to mind the powerful software and business technology we help people use
A bold new palette of warm colours which we feel match our friendly, people-centric approach
Why did we choose to rebrand now?
In 2020, the need for effective, people-first technology has been proven beyond doubt. Global lockdowns demonstrated just how important tools for collaboration and communication are – and FITTS has been working around the clock to help people use this technology to do their best work.
We believe that the world needs smart technology more than ever, and our rebranding is part of a conscious decision to help people and companies work better.
The FITTS family has been super busy in recent months, and our rebranding coincides with several key developments at the company:
For the first time, we hired heads of marketing and sales to grow our brand more systematically
Our work is increasingly being recognised and in June we were proud to receive a worldwide award from Ingram Micro Cloud for outstanding growth in customer base and revenue
We are set to announce two new products in the coming months: a unique Microsoft Teams adoption accelerator and a direct voice translation service that translates in real time between 23 major languages
New brand, same FITTS
Our new branding is, ultimately, a reaffirmation of the things which have always set FITTS apart: our emphasis on putting people first and using the smartest possible tools.
With our new branding, our goal is to reinforce and firmly establish those core values which are at the heart of everything we do.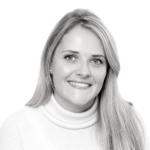 Olivia O'Sullivan is the Head of Marketing at FITTS. Olivia is responsible for the brand and oversees all external communications at FITTS. The purpose of her role is to build brand awareness and drive growth across FITTS service and product lines and accelerate our routes to market through our partners.
Olivia has a proven track record of helping B2B technology brands build a strong presence across a number of platforms.
Before joining FITTS in March 2020, she led pioneering marketing efforts to launch a first of its kind, SaaS solution built from complex machine learning algorithms designed to allow any company, from any industry, to train complete Distributed Learning and Machine Learning models, directly on their own edge devices.
Follow Olivia along on Twitter for her latest insights on winning at B2B Marketing in technology.