Investec is an international banking and wealth management group. It provides a range of financial products and services to a client base in Europe, Southern Africa and Asia-Pacific. Today Investec employs over 10,000 people globally, with headquarters in London. As a constituent of the FTSE 250 index, the business is made up of three divisions: Investec Group based in South Africa; Investec Bank based in the UK and Investec Wealth and Investments (IWI).
In 2019 FITTS partnered with IWI to support them with business change and adoption alongside their roll out of Windows 10 and Microsoft Teams. IWI wanted future tool sets to be driven by what the business needed, rather than a top down approach from IT.
Understanding the technology priorities for user experience.
IWI wanted to understand the end-user estate and their current use of technology tools, including any legacy methods. FITTS began with 20 face-to-face interviews with senior function heads, across 15 office locations throughout the UK. Alongside this, an all-users anonymous survey was issued to the business in order to gain insight on how employees worked day-to-day.  With an impressive 531 responses to the survey, FITTS business change team were able to analyse and condense this down to create just 5 personas that covered the workforce. These personas enabled FITTS to steer recommendations of which parts of the Microsoft 365 technology stack was right, for which users and when.
Once FITTS and IWI understood the current approach of working for each persona and the tools being utilised, FITTS were able to document a futures approach and strategic roadmap to enable Investec​ to build a trajectory of technology per user.
IWI chose to pilot the roll-out of Microsoft Teams initially. FITTS business change team created a series of adoption and training materials to ensure the true benefits of Microsoft Teams were realised. Teams first login guides and training collateral in Investec branding were created and stored in a SharePoint site forming the company's Service Now knowledge centre for new employees onboarding.  55 Technology colleagues also received one-to-one training face-to-face and remotely with FITTS change experts to upskill employees first-hand, on how to use their new tech and to become the Change Champions for the wider adoption.
The success of the initial pilot meant that the rest of IWI rolled out Microsoft Teams to approximately 1500 users.  The rest of the group were already using Microsoft Teams, however no training or adoption support had been done so they leveraged the FITTS training and adoption guides.
Microsoft Teams adoption is a success
Previously in other arms of Investec business, IT would roll out new technology to users with no training or onboarding, which led to poor engagement from the business and wasted investments. With FITTS support, Investec Wealth's new approach to business change and adoption change management has been very different. Feedback on surveys after Teams training showed users understanding of Teams was high where previously it had been low. Benefits realisation of staff knowing how to use and access Microsoft Teams was high. Feedback from the Technology Team was positive.
To learn more about how FITTS could help you with Microsoft Teams Adoption or for support with your next technology project, contact us.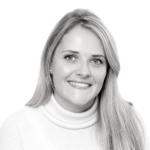 Olivia O'Sullivan is the Head of Marketing at FITTS. Olivia is responsible for the brand and oversees all external communications at FITTS. The purpose of her role is to build brand awareness and drive growth across FITTS service and product lines and accelerate our routes to market through our partners.
Olivia has a proven track record of helping B2B technology brands build a strong presence across a number of platforms.
Before joining FITTS in March 2020, she led pioneering marketing efforts to launch a first of its kind, SaaS solution built from complex machine learning algorithms designed to allow any company, from any industry, to train complete Distributed Learning and Machine Learning models, directly on their own edge devices.
Follow Olivia along on Twitter for her latest insights on winning at B2B Marketing in technology.