When Microsoft introduced its new Teams platform in 2017, it represented a new era for cloud-based communication and collaboration. With Teams, your company could potentially save thousands of hours, boost satisfaction rates and cut the time spent in meetings. As a platform, it brings all the tried and tested Microsoft 365 communication and collaboration tools into one place, making your colleagues' days smoother and more productive.
But success with Microsoft Teams isn't guaranteed. As research from McKinsey reveals, digital transformation initiatives often have underwhelming results – less than one company in five reports genuine improvements in performance.
At FITTS, we have first-hand experience observing the powerful, digitally transformative effect that Teams can have. Having deployed the platform on behalf of several large and medium enterprises, we have gathered valuable insights into what does and doesn't work with a Teams deployment. That experience and insight has now been distilled into our new eBook, so that we can share it with you.
Teams is the perfect platform for digital transformation
In many ways, Microsoft Teams offers the complete package of tools your organisation could need to benefit from a new, digital way of working:
Enormous cloud storage capacity with OneDrive
Secure virtual video meetings
Instant messaging with Teams chat channels
Email and files accessible from one interface
Real-time collaboration
Access to third party apps and tools
Works with any device
To learn more, read FITTS' 5 favourite Teams features
Nevertheless, simply deploying the platform and leaving people to 'get on with it' rarely, if ever, works. Instead, if you really want to change how your employees work, you need a coherent and secure method for deploying and rolling out the platform. To explore what this looks like, our new eBook describes the seven key stages of a successful Teams rollout.
Download our new eBook: 7 steps towards your new way of working
A new way of working, not a new technology
Teams is not a new technology. Many of the capabilities and features which are packaged in Teams have been around for many years.
Instead, the true appeal of Teams is that it enables you to use these different technologies to encourage a new way of working. This may sound a little abstract, yet Teams is most successful when companies invest in the idea that the tool can represent a new way of doing things. For example:
Information is just a couple of clicks away (rather than a lengthy navigation through folder structure)
Communication is direct and immediate (rather than involving endless emails which may take hours to respond to)
Collaboration happens in real-time (rather than requiring employees to book out meeting rooms to discuss documents)
The difficulty is that it is possible to use Teams without really changing working styles; many businesses treat Teams almost exclusively as a video call solution. And this is why a more strategic approach is so valuable – it turns Teams from something that barely nudges the dial to something which transforms your business.
In my new eBook, you will learn the crucial steps your organisation can take to make this new, better way of working a reality. You will learn:
What the Teams way of working looks like
7 crucial steps for a successful Teams deployment
How one international business with 16,000 seats has been digitally transformed using Teams
To learn more about the journey to Teams, download the eBook or contact FITTS about a free Teams assessment (funded by Microsoft).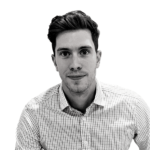 Tom has 8 years of experience working with global teams to deliver strategic digital transformations - helping clients improve collaboration, ways of working, business processes, operations and mobility.
In 2018, Tom opened the East Africa office for FITTS in Nairobi. He is passionate about the impact modern workplace technology is going to have on the way Sub-saharan Africa competes in the global marketplace and the role FITTS can play in supporting that journey.
During the past 8 years of digital transformation, Tom has worked in London, Saudi Arabia and Nairobi for clients such as Barclays Bank, UK Department of Work And Pensions, Unilever, Saudi Telecom Company, MS Amlin Insurance and a nuclear energy generator. However, regardless of the geography or the industry the ultimate objective has been the same – drive change that re-imagines the way people work every day.