Microsoft Teams has recently been thrust into the spotlight as thousands of people who had never worked remotely before were sent home during the Coronavirus pandemic. Indeed, usage of the app jumped by 70% to a whopping 75 million daily users.
Because Teams has so many brilliant features, you might have found that the more you use it, the more questions you have. Teams' is pretty intuitive, but as you go from basic to more heavy usage, it's not always easy to find answers to questions (especially if you're new to remote working!).
Having implemented Teams in organisations large and small the team here at FITTS have heard the same questions asked everywhere. We have therefore compiled a list of answers to the top 20 Microsoft Teams FAQ's.
What is Microsoft Teams and why should I use it?
Microsoft Teams is an app for teams, departments, or working groups where all conversations, meetings, files, and notes can be accessed by everyone, all in one place. It's a place for collaboration and work to happen in the open (but also in private if needed).
What is a Team?
Teams are collections of people, content, and tools that revolve around projects and departments within organisations. In Microsoft Teams, team members can have conversations and share files, notes, and more without needing to leave the app.
How do I create a team?
Step-by-step instructions for creating a team and adding members can be found here.
What's a channel and how should I use it?
Channels are the place in Teams where discussions about a specific topic, theme or project happens. Channels allow teammates to have focused conversations.
Every team has its own set of channels (starting with the General channel), and the members of that team get to decide what they want the rest of their channels to focus on. Some channels are devoted to specific projects, initiatives, and locations. Some are for different areas of interest, updates, or discussion topics. Some channels are just for fun! Every channel belonging to a team is completely public to all the team members, so everyone can feel free to join in a channel conversation.
As an example, an R&D team might create channels named 'new ideas', 'project management' and 'design issues'.
Tips for making the most of Teams channels:
If you spot a channel that looks interesting or is relevant to you, you've got the option of following (or, favouriting) it. FYI, you'll always have the General channel for every team and there's no way to remove it.
To pin a channel to the top of your Teams menu, just click the three dots next to a channel name and then click Pin. That way, it will stay visible in your teams list. You'll also be able to see if there's recent activity in a channel because the channel name will appear in bold text.
If someone @mentions you in one of your channels, you'll see a red number count next to the channel name that tells you the number of @mentions you received.
You might find there are more channels in a Team than you can see at a glance – click on 'X number of hidden channels' at the bottom to see them.
As I mentioned before, although Teams is designed to be an 'out in the open' collaborative working environment, it is possible to create a private channel from within an otherwise open Team. Those that aren't members of the private channel won't know it exists and those that are will see a padlock next to that channel name in the menu.
What's the difference between team channels and private chats?
Team channels are places where everyone on the team can have open conversations. Private chats are only visible to the people in the chat.
What is T-Bot and what does it do?
T-Bot is there to help you learn how to use Microsoft Teams! Ask a question or type a keyword or phrase into a chat with T-Bot and it will find the answer for you.
Can I still make one-on-one calls?
You can make direct calls and group calls without having to host a meeting. These are private and won't appear in any team conversation. See here for some tips on making calls from chat.
What are team meetings?
Team meetings are a quick and easy way for people in a channel to go from a conversation to an impromptu meeting – anyone from the team can join.
How do I schedule a meeting/group call with Teams?
Setting up a meeting in Teams is easy. Follow the simple instructions here
Is Microsoft Teams only accessible from my browser?
No, the Microsoft Teams app can be downloaded for Windows, Mac, Android, & iOS.
What can a team owner do?
Team owners can add and remove members and edit or delete a team. They can also:
Set team members' permissions for channels, tabs, and connectors.
Change the Team profile picture.
Control @[team name] mentions that will notify everyone on the team.
Allow @[channel name] mentions, which will notify members who've favourited the channel.

Allow usage of GIFs, stickers, and memes.
What's the difference between a SharePoint site and a Team? Why do both still exist?
I always say that the Microsoft applications you normally use to do your job are just like the spokes of a wheel and Teams is the hub. Many existing Microsoft tools such as SharePoint, OneNote, Word and Excel are all accessible from within Teams.
From a technical perspective the creation of a new Team will also automatically create a new SharePoint site in the background. A Teams user needn't be aware of this, but the traditional SharePoint document collaboration features are used in the background to manage the documents in a Team. This is the core reason why both Teams and SharePoint sites still exist.
Note that you can still create 'pure' SharePoint sites without Teams. But we do see most organisations switching to Teams because it offers users a more comprehensive digital workspace due to the added features that SharePoint alone doesn't support – such as calls and chat.
How can I manage and share files with my team?
You can use Teams to upload files, edit them collaboratively and share them with each other. Here's a handy guide.
Can I manage my notifications in Teams?
Yes! Check out the how-to guide here.
Can I use Teams for larger events such as Town Hall meetings and team huddles?
Yes, check out the new Teams feature called Live Events here.
Which browsers is Microsoft Teams available on?
The Microsoft Teams app works on the following desktop browsers:
Internet Explorer 11
Microsoft Edge
The latest version of Chrome
The latest version of Firefox
But Safari is not currently supported
Can team members or guests leave the team on their own?
Yes. Any member or guest can leave the team at any time via the Teams web or desktop clients.
Can I decide I don't want to receive video?
Yes. Click the three dots on an open call and you can select 'turn off incoming video'. This will prevent you from seeing the video being shared but will not prevent others from seeing it. This is particularly useful if your connection is weak and you're trying to increase bandwidth.
Are my files and conversations in Microsoft Teams secure?
Microsoft Teams is built on the Office 365 hyper-scale, enterprise-grade cloud, delivering the most advanced security and compliance capabilities. Data is encrypted in transit and at rest. While security is never 100% guaranteed, Microsoft's platforms are some of the safest available.
When you create files in Teams, they are stored in SharePoint and are backed by SharePoint encryption. Similarly, notes are stored in OneNote and are backed by OneNote encryption.
You can read more about security and compliance in Microsoft's documentation here.
Where can I find information about upcoming feature updates for Teams?
You can find information and contribute to the roadmap for Teams here. You can also check Microsoft's' What's new in Teams' page and 'Teams Blog' for updates.
Have any more Microsoft Teams questions?
Microsoft Teams FAQ's
Are you struggling to use Microsoft Teams effectively in your organisation? Perhaps you recently switched Teams on to enable remote working and you're not realising the full potential of the tool?
Talk to FITTS Teams experts today and see how we could support you with Microsoft Teams.  Or consider a Microsoft funded Teams Assessment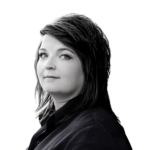 Hannah Paton-Brown is the Head of Business Change at FITTS.
Hannah has been practicing change for a decade in many different guises and has been instrumental in the digital transformation of large private and public sector organisations alike. Hannah has worked with household names such as Whitbread, UBS and Johnson Matthey, along with being one of the first Change Managers to work in Cyber Security at UK Parliament. Hannah has also lead change for individual Members of Parliament and was the lead for the change in digital as Costa was acquired by Coca-Cola in a multi-billion-pound deal in 2018.