In October 2021, tech giant Microsoft released a new product: Microsoft Cloud for Financial Services. Bundling together a suite of tools with features targeted specifically at the financial services industry, the product is intended to meet any bank, insurer, wealth adviser or hedge fund manager's needs.
Cloud technology has already seen serious take up in the FS industry, and according to one survey, 45% of businesses in the sector are already using Microsoft Azure.
So, how is Microsoft Cloud for Financial Services any different to what's already available, and do you really need it?
What is Microsoft Cloud for Financial Services?
Microsoft Cloud for Financial Services bundles together several existing products that Microsoft believes will meet the needs of most financial services firms. These include:
Microsoft Azure (general cloud computing power)
Microsoft 365 (a suite of productivity apps)
Dynamics 365 (customer relationship management tool)
Microsoft Teams (call, chat and collaboration environment)
Power Platform (a suite of tools that enable you to build apps and analyse data)
If your business chooses to use Microsoft Cloud for Financial Services, you'll have access to all of these apps and their features. What is more, the tools have been configured so they are 'oven ready' for the financial services industry. You'll still need to migrate your data and business information across, but the idea is that it will be a lot smoother to get set up in the cloud.
How is Microsoft Cloud for Financial Services different?
Since many FS businesses have already adopted cloud technologies, you may well be wondering if this Microsoft bundle is really any different to what you've already got. Especially if you're already using Azure, then the suite might seem unnecessary.
All the same, at FITTS we think there are a number of things that make Microsoft Cloud for Financial Services unique, and which could provide real value. These include:
Artificial intelligence for financial services
Microsoft Azure provides a huge amount of computing power, and this can support artificial intelligence solutions. Within the Microsoft Cloud for Financial Services suite, you'll find a number of AI tools that are ready to use, and which should be helpful for banks and similar institutions. These include AI for fraud detection, customer behaviour monitoring, loan approval processes and much more.
Essentially, this is about giving you financial services-ready AI so you don't have to build it yourself or purchase the tools on the open market.
Related: How Machine Learning provides FS firms intelligent insights
App templates
As part of its Power Platform, Microsoft provides you with a number of templates for data and apps which you can use to build and customise your own solutions. Rather than building cloud apps yourself from scratch, you get access to Power Platform's 'common data service' and various templates. You can then build all manner of applications in-house quickly and efficiently.
Compliance and risk management
FS firms are, of course, highly regulated – and they need to stay on top of an ever-changing compliance landscape. With Microsoft Cloud for Financial Services, you can feel more confident that your internal processes and data storage methods conform to the rules.
For example, if a new law in one jurisdiction meant you couldn't store financial data generated there in another jurisdiction, Microsoft could, in theory impose those new rules on the architecture. This would mean you'd remain compliant without having to do anything yourself.
Customer acquisition and retention
Microsoft Cloud for Financial Services also provides several tools that help banks personalise customer experiences. With Dynamics 365 you get a single view of each individual. The technology can also monitor each customer's behavioural patterns, and alert you to potential customer attrition – so you can do something about it. Microsoft has also built onboarding solutions that are meant to make the process of getting people signed up quicker and easier.
Improved customer service
Microsoft Cloud for Financial Services also provides you with various remote and automated customer experience solutions. These include, for example, virtual meetings, SMS and chat conversations, as well as virtual assistants. Again, this is all about providing you with readymade tools, so you don't need to go and build them yourself.
Ready to get started with Microsoft Cloud for Financial Services?
Whether you mainly use on-premises technology, or have already introduced some cloud-based platforms, bringing everything into a single, reliable, and robust environment can be very appealing. With Microsoft Cloud for Financial Services, you get a ready-to-use platform that gets you set up in the cloud quickly and easily.
At FITTS, we work with financial services businesses to help them get the most out of cloud technology. We can support you with every step of migrating to Microsoft Cloud for Financial Services and advise you on how to use the different apps and solutions included with the product. Contact us today to learn more.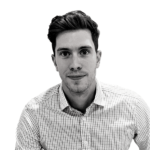 Tom has 8 years of experience working with global teams to deliver strategic digital transformations - helping clients improve collaboration, ways of working, business processes, operations and mobility.
In 2018, Tom opened the East Africa office for FITTS in Nairobi. He is passionate about the impact modern workplace technology is going to have on the way Sub-saharan Africa competes in the global marketplace and the role FITTS can play in supporting that journey.
During the past 8 years of digital transformation, Tom has worked in London, Saudi Arabia and Nairobi for clients such as Barclays Bank, UK Department of Work And Pensions, Unilever, Saudi Telecom Company, MS Amlin Insurance and a nuclear energy generator. However, regardless of the geography or the industry the ultimate objective has been the same – drive change that re-imagines the way people work every day.