In late 2021, technology giant Microsoft announced its new Microsoft Cloud for Manufacturing. The offering bundles together several pre-existing technologies which the IT firm believes are particularly relevant to manufacturing businesses. It's currently available in 'preview', with wider rollout expected soon.
The UK's manufacturing industry has demonstrated great interest in digitalisation, with one recent report suggesting that 80% of firms plan to use industrial digital technologies by 2025. Whether your manufacturing business is already using digital technology extensively, or you are just at the beginning of your journey, Microsoft's new bundle could potentially be a very compelling option.
To decide if Microsoft Cloud for Manufacturing is right for you, let's dig into exactly what you get, and explore its main benefits.
What Microsoft Cloud for Manufacturing is – and is not
In the last couple of years, Microsoft has launched several industry focused cloud bundles, including for financial services, healthcare and non-profits, among other verticals. The new manufacturing cloud is the latest of these industry-ready IT environments.
Despite the branding, there is nothing inherently 'new' in the Microsoft Cloud for Manufacturing. You would still be able to access all the technology in this bundle by simply purchasing individual Microsoft licenses for various tools and features. However, by bundling them, Microsoft believes they are providing firms with an integrated set of technologies that work together smoothly, and which meet most of the needs of most manufacturing businesses.
If you choose to go with the Microsoft Cloud for Manufacturing, you will get access to several technologies, including:
Microsoft's Internet of Things tools
Ever more manufacturing businesses are using connected IoT sensors to monitor the health of the widgets they produce, the manufacturing lines they run, the warehouse stock they hold, and even the productivity of their workers. Microsoft's IoT management suite helps you easily integrate data from IoT sensors, analyse it, and use it to make decisions.
Digital twins
Microsoft provides a number of impressive tools in the cloud to support the design and development of digital twins (representations of the real world, where you can test new ways of doing things). Whether you are looking to improve efficiency on your production lines, try out different product designs, or plan the layout of factory floors, digital twins can be revolutionary.
Collaboration technology
Microsoft has long excelled in providing collaboration technologies, with Microsoft Teams in particular providing a fantastic way for staff to communicate with one another remotely and solve problems.
Supply chain management
The manufacturing sector has been hit harder by supply chain disruption in recent years than any other sector. With its Dynamics 365 supply chain solution, the Microsoft Cloud for Manufacturing bundle gives you a powerful way to plan and optimise your supply chain, and collaborate with upstream and downstream partners.
Marketing and sales support
Within the Microsoft Cloud for Manufacturing bundle, you'll also get access to the Dynamics 365 customer relationship management tool. This CRM provides you with a central place for optimising sales, tracking customer behaviour, and improving marketing campaigns.
The above list doesn't cover all the technologies in Microsoft's manufacturing bundle, and new features are likely to be added in time as well.
Why use Microsoft Cloud for Manufacturing?
The big selling point for this new bundle is that you get a complete selection of manufacturing-focussed tools one place, all streamlined to work together.
Now, as noted above, none of the technologies in this bundle are exactly new, so you might ask why it's worth choosing Microsoft's bundle – rather than stitching together your own digital manufacturing environment.
At FITTS, we are a vendor agnostic technology consultancy, working with both Microsoft's technology stack, as well as AWS, Google and solutions from other IT providers. We see a number of key benefits that come with Microsoft's manufacturing solution.
Makes for an excellent entry point to digitalisation
If you run a manufacturing business but are not yet using digital technologies extensively, the Microsoft Cloud for Manufacturing gives you a shortcut to a wide range of powerful tools that are tuned to the needs of your industry. You can use this bundle to catch up with – or even leapfrog – competitors in a single step.
Logical if you're already using Microsoft extensively
If you already use Microsoft technology for things like your intranet, e-mail systems, inventory management, document storage and so on, connecting it all together with the Microsoft Cloud for Manufacturing is very straightforward, and the environment will feel familiar.
Cheaper than building your own
Many manufacturing businesses today are looking to invest in digital technologies to do things like creating digital twins, running IoT systems and collaborating. On one hand, you could go to market and pick and choose products from several different suppliers that are perfectly suited to your needs. Or, you could use Microsoft Cloud for Manufacturing, and get most of the tools you need in one place. You might, of course, have to sacrifice certain features you'd like, yet the cost savings of buying everything from one supplier are hard to ignore.
Great cybersecurity
Like businesses in all sectors, manufacturers are threatened by cybersecurity breaches and attacks. However, Microsoft (and its cloud) is, without a doubt, a world leader when it comes to protecting businesses and their data from this sort of threat.
Is Microsoft Cloud for Manufacturing right for you?
With Microsoft Cloud for Manufacturing, the tech giant has brought together a compelling bundle of IT solutions that would be appropriate for a wide variety of manufacturing businesses. By bringing together numerous tools that are finetuned to the needs of the industry, they hope to provide a 'one stop shop' for manufacturers looking to digitise.
Whether Microsoft's bundle ticks all your boxes, or you need a more targeted solution, FITTS can help. We have extensive experience supporting digital transformation at manufacturing businesses and can help you plan for and deploy cutting edge IT.
Contact us today to learn more about Microsoft Cloud for Manufacturing and how it can benefit your business.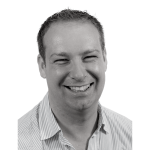 James has 20 years of experience working within global businesses to deliver strategic digital and infrastructure transformations. With clients spanning Financial Services, Energy, Telecoms, Aerospace and Defence he has a broad array of knowledge and experience across multiple sectors. With a specialisation in security, James has been instrumental in defining, delivering and overseeing the delivery of digital strategies and is a sought-after advisor in a CIO/CTO advisory capacity.
As one of our founders, and our managing director, James focuses his time on delivering the FITTS mission, vision and value promise. James' visionary and forward-thinking approach is valued by our partners and customers alike. He participates on strategic product boards to help define the future roadmap of existing platforms, alongside new products and services.
As well as our technology and strategy delivery, James is passionate about Diversity and Inclusion and partnering with organisations to ensure that their digital platforms are not just innovative but prioritise people-first.