Microsoft last month announced a new set of features coming to Microsoft Teams in response to the ever-evolving remote working challenges brought about by covide-19.
Some of these new features like Live Transcription and Whiteboard have already taken effect, whilst others you might have to wait until the end of the quarter until they show in your tenant.
This blog outlines these 14 new features, how they can benefit you and when to expect them.
#update: Microsoft announced further updates coming to Microsoft Teams at Microsoft Ignite event in September 2020. You can read my updated blog: 7 awesome new features coming to Microsoft Teams announced at Ignite.
1. Together Mode in Microsoft Teams
In response to recent research conducted by Microsoft that found many Video conferencing users were experiencing Video fatigue from the number of daily conference calls they found themselves on – Together Mode was designed to bring people together in a more familiar environment, such as in a coffee shop for a coffee catch-up with your colleagues or a lecture theatre for an 'all-hands' meeting.
Together Mode will be available to Teams users in August.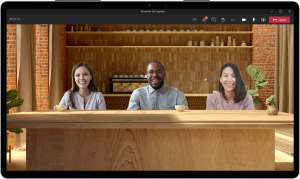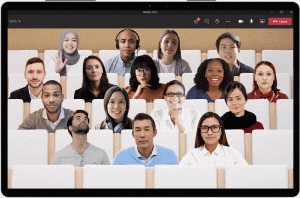 2. Dynamic View in Microsoft Teams
These new enhancements are intended for everyday use and provide Teams video conferencing hosts and participants a personally curated view of content and fellow attendees in the meeting.
This new personalisation includes a large Gallery view of up to 49 participants at once – one of our customer's most requested features since lockdown started.
Also, now when you raise your hand to speak, a yellow box will appear around the participant, making it easier to spot amongst a large participant view.
In addition, Breakout Rooms will enable meeting organisers to create break-out sessions of smaller groups, for workshop-style sessions.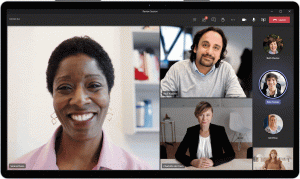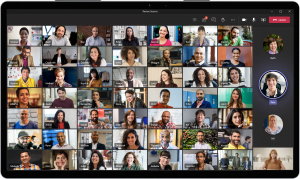 3. Video Filters new to Microsoft Teams
In addition to the background blur settings already available in Microsoft Teams, Generation Y & Z users will be delighted to know the all too familiar selfie settings they have become accustomed to on their mobile phones is coming to Microsoft Teams.
This tool for rough mornings or long days will enable users to adjust the light filter settings before commencing your call, applying a sympathetic edge to your appearance.
You will have to wait until August for Video Filters.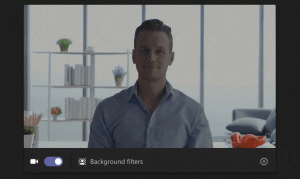 4. Reflective Messaging Extension in Microsoft Teams
A brilliant add-in for teachers or managers looking for a quick and effective way to check-in with their groups or teams. Available end of July, this extension will enable line-managers to check-in with their remote teams, with either quick recommended polls, or customised prompts.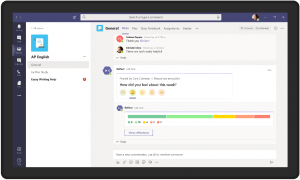 5. Live Reactions
My favourite new feature – Live Reactions will enable you to gauge the feedback of people in your meeting without interrupting the flow. Little emoji's will fill the participant's video frame with hearts, smiley faces, or applauding hands.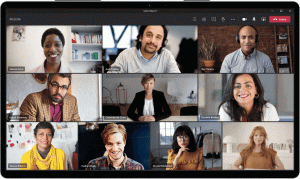 6. Chat Bubbles
Currently for Teams users when in a call or presentation, users must manually open up the Teams chat to send and receive messages, meaning you have to leave your video screen. Now with Chat Bubbles, participants can respond with chat conversation rather than verbally responding. This in turn reduces video fatigue and maintains the flow of presentations and video calls.
7. Speaker Attribution for Live Captions and Transcripts
Currently in Teams, live transcription does not show who is talking with each sentence. With Speaker Attribution function coming soon, it will now show the name of the speaker. Also available later this year, transcript files will be saved as a separate tab after the call is completed. This is another tick in the box of accessibility and inclusion.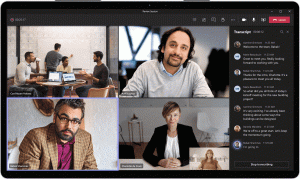 Picture Illustrates Live Transcription with Speaker Attribution in Microsoft Teams (source Microsoft)
8. Interactive Meetings for 1000 participants and overflow
Microsoft has recently moved from 250 to 300 active participants and intends to move up to 1,000 in the future. However, Teams can already support a view-only group call of up to 20,000 users using Live Events Mode in Teams.
9. Microsoft Whiteboard updates
Whiteboard is already available in Teams but it will soon be updated with more functionality including faster load times, yellow sticky notes, and drag and drop. This will enable users without a touchscreen to participate also.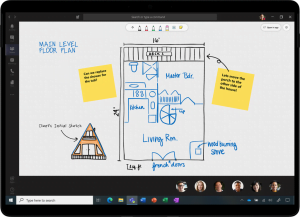 10. Tasks App
"The Tasks app brings a cohesive task management experience to Microsoft Teams, integrating personal tasks powered by Microsoft To Do and team tasks powered by Planner all in one place," say Microsoft.
Available as an App and as a tab in Channel, Task App is currently in preview mode and launched publicly later this month.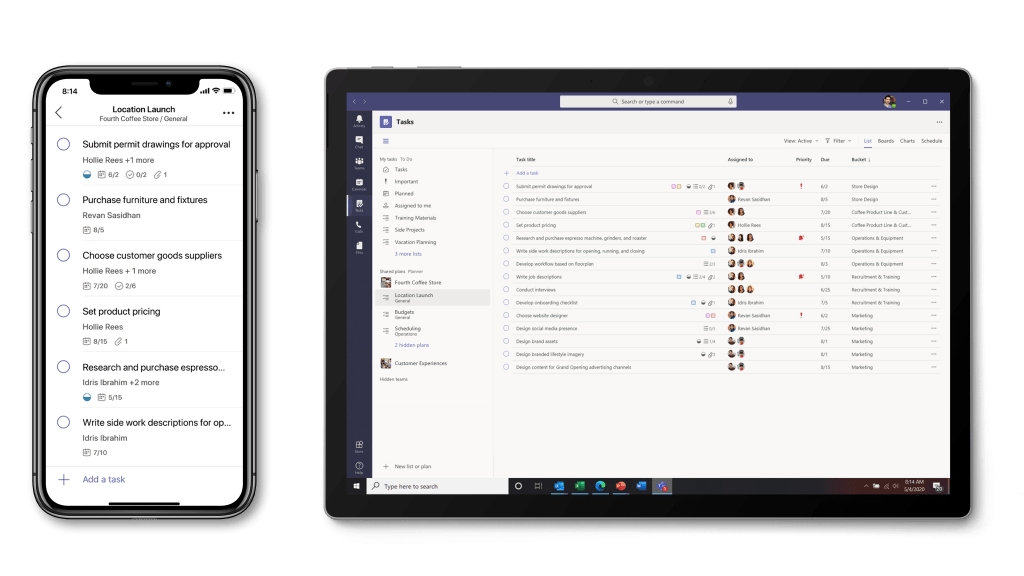 11. Suggested Replies
A useful and familiar feature for those fat-fingered typists like me, suggested replies in Teams Chat uses AI to recommend short responses based on the context of your conversation. Coming later this month to Teams Mobile App but not the Desktop version.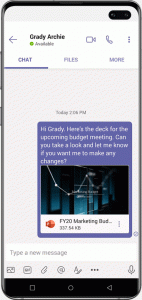 12. Cortana in Teams Mobile App
Selecting the mic icon on the mobile app will launch Cortana. You can ask Cortana to make a call, join a meeting, send chat messages, and share files.
*Note this feature will only be launching to Enterprise 365 customers in the United States to begin with, but we hope it will be rolling out to Europe soon.
13. Touchless Meeting Experiences in Microsoft Teams
With touchless meeting room experiences being needed now more than ever, Cortana will later this year be enabled for use in Microsoft Teams room devices. Simply ask Cortana to add participants to join or leave a meeting. Initially only available to Microsoft 365 Enterprise customers in the US.
Additional features include the ability to wirelessly cast to any Teams Room, collaboration bar, or Surface Hub device, enabling seamless ad-hoc in-person collaboration for people in a shared space. Lastly – a new remote feature in the Teams mobile app will enable meeting organisers and participants to mute, adjust volume, switch on cameras and leave a Teams meeting.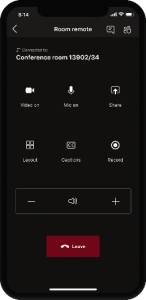 14. Microsoft Teams – Not Just For Work
Finally and most importantly, Microsoft Teams isn't just for work-life – its for home life too! As a parent, wife, daughter, sister, friend and a colleague during lockdown and beyond, I have an ongoing need to connect with my family, friends and colleagues all at once. Microsoft Teams mobile app now enables users to quickly switch between your work account and personal account. Meaning I can use Teams to video call my Grandma at the weekend, message my sons' teacher in Teams chat or share and access documents in OneDrive with my husband.
"With the new features, we hope to extend the power of Teams beyond work scenarios to your personal life. Whether you're a busy parent managing daily family life or just trying to stay connected and in sync with those who matter most, the new features are designed to alleviate the need for disparate tools and instead offer one central hub for individuals, groups, and families to collaborate and stay connected and organized." Say Microsoft.
Here at FITTS, we're excited about the ongoing developments in Microsoft Teams and Microsoft's commitment to support businesses and remote workers like never before. It's FITTS mission to partner with and enable businesses to achieve their full potential through an inclusive people-first approach.
If you need Microsoft Teams support – be it strategically or technically, we can help. Our in-house Strategic Teams Practice provides businesses with a comprehensive approach to deliver Strategic Business Systems through Teams as a platform, driving; inclusion, accessibility, innovation and growth for the Modern Workplace within an effective governance & security wrap. Contact us for more guidance and support with Microsoft Teams.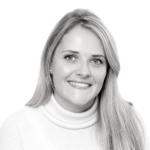 Olivia O'Sullivan is the Head of Marketing at FITTS. Olivia is responsible for the brand and oversees all external communications at FITTS. The purpose of her role is to build brand awareness and drive growth across FITTS service and product lines and accelerate our routes to market through our partners.
Olivia has a proven track record of helping B2B technology brands build a strong presence across a number of platforms.
Before joining FITTS in March 2020, she led pioneering marketing efforts to launch a first of its kind, SaaS solution built from complex machine learning algorithms designed to allow any company, from any industry, to train complete Distributed Learning and Machine Learning models, directly on their own edge devices.
Follow Olivia along on Twitter for her latest insights on winning at B2B Marketing in technology.