There are few industries where collaboration is more important than in the public transport sector. Whether it's the control room directing drivers, communications with customers, or the need to work closely with track operators, ports and local authorities, frequent information sharing is absolutely vital to smoothly get people from A to B.
Despite the importance of good collaboration, many public transport firms are struggling here. Not only do collaboration problems affect the services they deliver, but they also cost money and prevent firms from innovating.
So, what's holding collaboration back in the public transport sector, and how can it be improved?
What is public transport collaboration?
'Collaboration' simply refers to working with other people and organisations to achieve something. In the public transport sector, this is ultimately about getting passengers to their destinations. Public transport businesses are hugely reliant on collaboration, both internally and externally, and they almost all depend on working with other parties to provide their services successfully.
Collaboration in public transport could include:
Working within the business to do things like plan routes, allocate resources (such as drivers or vehicles), develop new ticketing systems, upgrade vehicles and more.
Working with other businesses to support multimodal trips, share data on customer behaviours, provide offers and deals, etc.
Working with infrastructure owners, to respond to or report about problems with rails, roads, bridges or ports.
Working with the authorities, to discuss routes, services, and ensure compliance with new legislation.
Working with customers, the community and civil society on access, demand, special services and so on.
Having ways to work effectively with all these (and other) parties, is vital to make a public transport business a success. The trouble is, many firms face serious barriers to smooth collaboration.
Case study: See how Arriva overcame its collaboration challenges
Barriers to collaboration in public transport
Each public transport firm is unique, and their activities and ways of working are often shaped by outside forces. However, at FITTS we work with several public transport firms on their digital transformation journeys, and we regularly encounter the same sorts of barriers to good collaboration.
Perhaps the most common issue is that of information silos. Since most work is linked closely to specific geographic areas, each local business unit often ends up functioning almost like a separate organisation. All data, initiatives, ideas, and indeed people, work almost exclusively in a specific local domain. This means that sharing ideas with their colleagues in other towns, on different lines, or indeed countries, is almost impossible. For example, the branch of a bus company in City A often has no idea what their colleagues in City B are doing.
Another collaboration problem we regularly come across is firms' inability to work easily with outside partners, including the authorities, as well as infrastructure providers and other businesses. A ferry service provider, may, for instance, lack the means to share information with the port authority about passenger flows or routes. This means that simple measures to improve services get missed.
It's also often surprising how limited public transport firms are when it comes to communication. Organising meetings, contacting drivers or sharing data is all slowed down massively by a lack of efficient and modern communication methods.
3 ways tech can transform collaboration in public transport
When we work with public transport businesses, we know full well that there is no single solution to all challenges – that's why you need to find an answer that FITTS your specific context. That being said, we do find that many collaboration issues can be very quickly improved using the following three technologies:
1. The cloud
The cloud refers to the use of powerful data centres which can be accessed over the internet. Rather than each of your company's offices storing its data on servers in the basement, the entire company accesses information via a single online portal.
Everyone can get access to the latest marketing, promo, ticketing or sales materials by simply logging in, and this means the entire company can be 'singing from the same hymn sheet' when it comes to strategies and communications.
The cloud also makes it far easier to work with external partners – to share information, edit documents together, store presentations and so on.
2. Data management
There are now multiple systems that can make using the data your firm collects much more valuable. These systems let you pull up dashboards to view things like passenger flows, revenue, and real-time ticketing data across all your sites.
Similarly, modern data management tools allow you to securely share and receive information from infrastructure providers, partner businesses, local authorities and other transport firms. This can all support you in finding ways to offer better services.
3. Communication tools
Good collaboration requires on effective means of communication. And once again, tech can play a huge role here. Modern IT comms tools support voice calls and meetings, as well as apps for frontline staff to speak with one another and management.
Modern comms also allows customers, external partners, and authorities to work closely with you on projects.
Recommended: Why public transport must get digital transformation fundamentals right
Ready to improve public transport collaboration?
At FITTS, we regularly see how modern technology can transform collaboration at public transport firms. From enhancing communication, to sparking innovation and ensuring greater customer satisfaction, the benefits are enormous.
So, are you ready to find ways of improving collaboration at your transport business? Contact us to find out how we can help.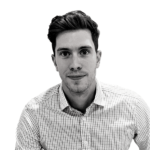 Tom has 8 years of experience working with global teams to deliver strategic digital transformations - helping clients improve collaboration, ways of working, business processes, operations and mobility.
In 2018, Tom opened the East Africa office for FITTS in Nairobi. He is passionate about the impact modern workplace technology is going to have on the way Sub-saharan Africa competes in the global marketplace and the role FITTS can play in supporting that journey.
During the past 8 years of digital transformation, Tom has worked in London, Saudi Arabia and Nairobi for clients such as Barclays Bank, UK Department of Work And Pensions, Unilever, Saudi Telecom Company, MS Amlin Insurance and a nuclear energy generator. However, regardless of the geography or the industry the ultimate objective has been the same – drive change that re-imagines the way people work every day.