Imagine your company has recently moved into a new office which has lots of services to help improve employee wellbeing and satisfaction, including games room, fitness classes, massages and free fresh food and drinks. However, when you look around, you realise your staff are actually only using about half of the services. An organisation would not be happy to keep paying rent on unused services, but more importantly that services to improve an organisation were not being utilised.
But this is exactly what happens when many companies purchase Microsoft software licences. Lots of the new tools they're paying for barely get used, staff rarely venture out of their e-mail inboxes, and so these companies end up wasting thousands of pounds each month and with lower levels of expected productivity and innovation.
This is a surprisingly common scenario. According to a survey by Gartner, one quarter of organisations say that between 25% and 50% of their subscriptions for cloud software are not even being used.
With today's tough economic landscape, now is surely a good time to verify whether you are really using your Microsoft 365 licences as effectively as you could.
3 common causes of disappointing Microsoft 365 ROI
When it is implemented correctly, Microsoft 365 can deliver a very impressive return on investment. A study by Forrester claims the platform can deliver 135% ROI just three years after migration. The trouble is that this analysis is based on the 'ideal company' that uses the technology to full effect – but in reality the closer you get to full utilisation of the relevant software features for your organisation, the greater ROI can be achieved.
Here are three key reasons why Microsoft 365 doesn't get used to full effect – and what you can do about it:
1. A poor adoption strategy
One of the biggest dampeners of Microsoft 365 ROI is a poor adoption strategy. Many businesses fail to fully train their employees on how to use the technology or make them aware of all its features. Fundamentally, you cannot expect people to use Microsoft 365 effectively without a consistent adoption campaign.
Improve your Microsoft 365 adoption by:
Using Microsoft 365 adoption 'champions' who encourage colleagues to use the tech
Ensuring that business executives lead by example and use this technology
Train people up and generate awareness with campaigns
Measure and track Microsoft 365 usage rates
eBook: Your guide to business change management
2. Failure to align with business activity
It is not uncommon for businesses to implement Microsoft 365 without fully aligning it with their actual business processes. Very often, Microsoft 365 migrations are seen as an 'IT thing' – not a topic that other business units really think about. Unfortunately, this means that employees tend to see Microsoft 365 as little more than an updated e-mail inbox and document storage facility.
You can align Microsoft 365 with your business more effectively by:
Properly mapping Microsoft 365 apps to different business units' tasks (e.g., showing events managers how to use the Microsoft Planner app that's available for free with their E5 licences)
Engage at least one employee from each business unit to support with implementation of the technology – a 'people first' approach really helps
Make sure you get the appropriate licence type for different kinds of employees; many staff do not need the full suite of tools, and can often do with a less extensive (and therefore cheaper) license
3. Incomplete migration during COVID
The COVID-19 lockdowns were, for many organisations, the impetus for migrating to a cloud-based work environment like Microsoft 365. For staff to be able to work remotely, the cloud was of course a fantastic solution. But these rapid migrations meant that many businesses didn't follow migration best practice, and now only really use the platform for Teams calls and Outlook email.
At the same time, these companies are often still using their pre-existing file servers and quite a bit of legacy technology – whilst also paying for full cloud licences.
You can make your cloud migration 'complete' by:
Reviewing what has and hasn't been migrated to the cloud
Implementing a plan to finish the job
Providing training and advice to ensure that people know how to use the new environment
Make your Microsoft 365 licences work harder
We absolutely believe that Microsoft 365 can deliver enormous ROI – we've seen its success with many of our clients. However, achieving ROI is not always straightforward, and often requires a carefully designed amount of preparation and planning – and even changes in business processes. It is never just a case of giving employees a new username and password and letting them 'get on with it'.
If you don't feel that you're using your Microsoft 365 licenses to full effect, contact FITTS and our experts will help you maximise your Microsoft 365 licences and ensure they are really working for you.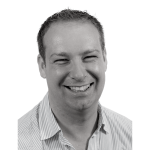 James has 20 years of experience working within global businesses to deliver strategic digital and infrastructure transformations. With clients spanning Financial Services, Energy, Telecoms, Aerospace and Defence he has a broad array of knowledge and experience across multiple sectors. With a specialisation in security, James has been instrumental in defining, delivering and overseeing the delivery of digital strategies and is a sought-after advisor in a CIO/CTO advisory capacity.
As one of our founders, and our managing director, James focuses his time on delivering the FITTS mission, vision and value promise. James' visionary and forward-thinking approach is valued by our partners and customers alike. He participates on strategic product boards to help define the future roadmap of existing platforms, alongside new products and services.
As well as our technology and strategy delivery, James is passionate about Diversity and Inclusion and partnering with organisations to ensure that their digital platforms are not just innovative but prioritise people-first.