It's the year 2025 and you're looking through minutes from a meeting last week. As you think about how helpful the meeting was, you suddenly realise you can't remember where you physically were while it took place. Were you at your home office, or were you at your company's HQ?
In a world where hybrid working becomes the norm, this kind of experience will become increasingly common. Ever smoother technology will blur the line between working from home and working at the office, and the two will become increasingly indistinguishable. People working remotely won't feel 'left out' of office chats, and the experience of company culture will be much the same wherever you are.
To make this hybrid working future possible, it's going to be essential to choose the right technology set up for your business. The good news is that many of the tools you'll need are already available with Microsoft Teams.
Join the webinar: How to accelerate hybrid working with Microsoft Teams
Match tech to the problem
If you are preparing for a hybrid working future, the first thing to consider is the kinds of challenges it could introduce. You can then match tech to the problem:
How to encourage a sense of company culture when people aren't together physically
How to tackle isolation
Avoiding video call fatigue
Ensuring people outside of the office feel heard in meetings
Checking in on people's mental health
Allocating tasks and setting expectations
Ensuring people have access to all the documents they need
Many of these problems are already addressed by Teams and other Microsoft tools – and we can expect them to be fine-tuned further in the coming years.
Plan for hybrid: 10 factors to consider when your shift to hybrid working
5 Microsoft Teams features to support hybrid working
The following five Teams features can support your organisation as you shift towards more hybrid working:
Teams Rooms: Bridge the gap in meetings
One of the greatest challenges with hybrid working will be to bridge the gap between in-office and remote staff during meetings. In-office staff are more likely to dominate the discussion, while those working remotely can struggle to make themselves heard.
Teams Rooms, which was launched earlier this year, attempts to address this through the use of intelligent hardware and app design. For those in the physical room, a large wall-mounted monitor can show life-size video feeds of all their colleagues who are calling in remotely – making it easier to see who's talking.
For those working at home, smart cameras and microphones can pick up who's speaking in the room, and move the focus to that individual. The app comes with a wide range of other features that make meetings run smoothly regardless of the participants' locations.
Together Mode and Presenter Mode: More 'lifelike' experiences
Even if you aren't ready to set up Teams Rooms just yet, Microsoft have rolled out a number of features to Teams video calls which make it feel a lot more natural to collaborate with colleagues anywhere.
Together Mode intelligently arranges a video feed of everyone calling in so they appear to be sitting in a meeting environment together (instead of a collection of separate blocks with their homes in the background!). Presenter Mode, meanwhile, allows remote workers to appear visually in front of a slideshow or document they're presenting, rather than simply sharing their screen. This makes the experience a lot more natural when the presenter is outside of the office.
Viva Insights: Keeping an eye on wellbeing
Microsoft Viva is a collection of employee experience tools designed to support your company's culture regardless of location. Viva Insights, which is one feature of the package, allows managers to monitor how their teams are doing. It lets them see, for instance, if any of their remote employees are working overtime, helping to prevent burnout.
Learn more: What is Microsoft Viva?
Viva Connections: Support company culture
Viva Connections is another feature of Microsoft Viva which brings an intranet experience right into Microsoft Teams. As more people are spending more of their days in the Teams environment, it makes sense to display corporate news and comms there too. This can help people feel connected to the business wherever they're working from.
Whiteboard: Encourage collaboration from anywhere
Whiteboard is an app that is freely available in Microsoft Teams. Anyone in the office or calling in to a meeting can interact with the whiteboard to make notes, drawings or comments regardless of location.
In the office, the whiteboard appears on a Microsoft Surface Hub, but anyone who's connected remotely to the meeting also has the ability to make notes, write text or draw free form on the whiteboard using their smartphone or laptop. Again, this is a powerful tool for enabling people to collaborate as if they were physically in the office.
Accelerate hybrid working with Microsoft Teams
Microsoft Teams offers a wide range of solutions which can support your plans for a future of hybrid working. While it's still early days, the range of technology already available suggests that companies will be able to access the tools they need to make it a success.  
In our upcoming webinar, we'll be looking in more detail at how you can use Teams and other Microsoft technology to accelerate hybrid working in your organisation.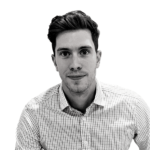 Tom has 8 years of experience working with global teams to deliver strategic digital transformations - helping clients improve collaboration, ways of working, business processes, operations and mobility.
In 2018, Tom opened the East Africa office for FITTS in Nairobi. He is passionate about the impact modern workplace technology is going to have on the way Sub-saharan Africa competes in the global marketplace and the role FITTS can play in supporting that journey.
During the past 8 years of digital transformation, Tom has worked in London, Saudi Arabia and Nairobi for clients such as Barclays Bank, UK Department of Work And Pensions, Unilever, Saudi Telecom Company, MS Amlin Insurance and a nuclear energy generator. However, regardless of the geography or the industry the ultimate objective has been the same – drive change that re-imagines the way people work every day.