Are you one of the 20 million people who use Microsoft Viva on a regular basis? Despite only launching in February 2021, the employee experience platform has notched up huge adoption figures in a very short space of time. And during April's Viva Summit (full recording here), the Viva team announced several exciting new updates to the platform which should make it even more popular.
Given Microsoft's much-publicised investments in OpenAI, you won't be surprised to learn that the new updates mainly focus on integrating artificial intelligence into Viva's various features.
So, if you regularly use Viva, what can you expect to see being rolled out in the coming months?
More engagement = more profit
Before we explore the latest Viva updates, it's worth reporting that Microsoft used the Viva Summit to release a new findings about employee engagement. Based on analysis of surveys with three million employees at companies worldwide, the tech firm discovered that the organisations with the most highly engaged employees have significantly better financial outcomes.
Microsoft reckon this shows that engagement has a flywheel effect. The more engaged you are, the more productive you'll be, the higher your company's profitability. This is a striking finding because it suggests that if organisations want to increase revenue, those that only focus on improving productivity won't be as successful as those who focus on improving employee engagement. And of course, Microsoft reckon Viva can help with that.
New to Viva: Read our practical introduction to Microsoft Viva
Viva gets Copilot integrated
The Viva team used the Viva Summit to announce some major product updates and demonstrate how AI will be used to improve the experience of using the platform.
The biggest change will be the integration of the new Microsoft 365 Copilot system into various areas of the Viva platform. Copilot is Microsoft's attempt at integrating the power of Large Language Models (i.e., ChatGPT) into their technologies. This isn't just a chatbot that follows you around your company intranet. Instead, it combines the LLM with Microsoft's own Graph AI system and your company's internal documents and conversations. It then sorts through all this information to provide prompts, suggestions and content that are tailored to an individual user's specific needs.
Copilot is being integrated into multiple Microsoft 365 products, but in terms of Viva, you'll start seeing it in the following places:
If you use Viva Goals for setting company plans and strategy, then Viva Copilot could be very handy. It will be able to analyse your company's business documents and then generate specific recommendations for managers, teams, or even individuals to help achieve the organisation's wider objectives.
Engage is Viva's updated and modernised take on Yammer, Microsoft's earlier workplace social network. And with Copilot, it should help users get more out of the platform. At the Viva Summit, Microsoft showed how it could help business leaders craft posts, tweak the tone, or craft responses to employees' comments. That should make using the system faster and more efficient.
What is your company's position on a new piece of regulation? Where is the holiday booking form? What's the process for onboarding an external consultant? Answers in Viva is a helpful tool that lets people crowdsource knowledge from their colleagues – a bit like a workplace Quora. And with Copilot, it should get even more helpful – identifying times similar questions have been asked, suggesting links to intranet pages, and giving people answers faster.
Topics is a very helpful tool that summarises documents and projects, and identifies subject matter experts. And with Copilot, this technology will only get better. The AI can summarise even more content to help get the right information to the right people.
Microsoft hasn't yet announced an exact timeline for these updates, but Copilot should start appearing in Viva later this year.
Viva gets Glint too
Another update that Microsoft announced at the Viva Summit was the integration of Glint, starting in July. Glint is another AI service and a former LinkedIn subsidiary which is essentially an employee feedback solution. Through regular surveys, it helps organisations take a pulse of how employees are doing. It then provides suggestions based on this data to help improve engagement.
For any HR manager who's ever commissioned a survey of thousands of employees' opinions, this could be a game-changer. Rather than taking several days to read through countless comments and analyse survey answers, Glint finds the insights for you. This means businesses can quickly get a much clearer idea of how people are doing, and respond to issues in 'real time'.
Is it safe to use AI on internal business information?
With Microsoft integrating OpenAI's LLM with Viva, that's an awful lot of personal and business-critical information being 'read' and processed to answer people's questions about company policy, customers, and IP. So, you might well be concerned about the potential security implications of using Copilot in Viva.
However, Microsoft has repeatedly stressed that organisations' data won't get out onto the public internet and that LLMs like ChatGPT will not be able to use prompts or activities inside your instance of Viva to train the AI.
Get prepared for a new way of using Viva
At FITTS, we're very excited about what Copilot and Glint will mean for Viva. By making it quicker and easier to find information, draft content or analyse sentiment, these updates could really boost adoption – and also get people more engaged at work.
Getting people using this technology will require training and support to ensure adoption. And that's where we can help. Our Microsoft training teams can help your employees get the most out of these new features in Microsoft Viva, incorporating the tech into their daily routines, and helping your business improve productivity.
Contact us today to learn how we can help you use Microsoft Viva more effectively.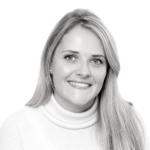 Olivia O'Sullivan is the Head of Marketing at FITTS. Olivia is responsible for the brand and oversees all external communications at FITTS. The purpose of her role is to build brand awareness and drive growth across FITTS service and product lines and accelerate our routes to market through our partners.
Olivia has a proven track record of helping B2B technology brands build a strong presence across a number of platforms.
Before joining FITTS in March 2020, she led pioneering marketing efforts to launch a first of its kind, SaaS solution built from complex machine learning algorithms designed to allow any company, from any industry, to train complete Distributed Learning and Machine Learning models, directly on their own edge devices.
Follow Olivia along on Twitter for her latest insights on winning at B2B Marketing in technology.