How are you feeling about your organisation's IT prospects this year? While we all hope that 2023 will throw up fewer curveballs than the previous three years, it's still set to be a challenging one. On the global scale, a worldwide recession, ongoing energy and supply chain crises, not to mention wars, strikes and COVID waves, are all compounding to make for a cloudy outlook.
And for CIOs, a combination of these wider issues and IT-specific challenges will all make for a busy in-tray. Preparation is of course key, and so we've compiled five topics that we think need to be on meeting agendas both within IT departments and at the board level for the coming months.
5 key challenges for CIOs in 2023
Each organisation is different and will have its own unique challenges. Still, you might find it helpful to consider the following five issues as you prepare for the year ahead.
Recruiting and retaining IT staff
There have been shortages in IT staff in the UK for years – 94% of tech employers report a lack of skilled staff, according to one survey. And in 2023, this problem is likely to be exacerbated. A tight jobs market means tech workers will be in high demand. It's a seller's market, so IT employees can command high salaries. What's more, there's a good chance that your existing tech workers are already being bombarded with calls and emails from headhunters trying to draw them away to better-paid jobs.
How to manage this challenge:
Money talks – it will be vital for IT leaders to negotiate a bigger money pot to both retain and attract staff
Perks and employee experience – give employees perks they really want, be that flexible working, genuinely meaningful tasks, and a great company culture
Outsource – realistically you will need to outsource some IT work to external experts, freelancers and contractors, so it's best to plan for this and build relationships as soon as possible
Increase internal IT skills – through training or 'citizen developer' concepts
The global economic outlook
With warning indicators of a recession flashing red, it seems likely that the global economy will shrink this year. Besides a wider recession, CIOs will also need to deal with inflation, supply chain issues, and even the rise of protectionism.
For IT leaders, these factors will affect projects, potentially slow down work, and impact your strategy. Inflation, for instance, might mean your budget will no longer allow you to buy certain types of equipment. Supply chain problems might make it harder to get technology parts (especially chips and networking hardware), and protectionism could also increase costs and reduce easy access to goods.
How to manage this challenge:
Focus on your core activities – make sure you have the tech you need for essential work
Build risk into projects – prepare for the possibility that work will be delayed, slowed down or that you'll need to change course
Reduce costs – wherever possible, cut 'fat' and unnecessary IT spend, including around technical debt.
Cybersecurity
As we mentioned in our blog on the top cybersecurity challenges for 2023, malware, ransomware and phishing attacks continued to cause havoc last year. So, expect more of the same this year. And, if you haven't already been subject to a cyber-attack, expect one. Criminals are increasingly targeting smaller businesses today, seeing them as a softer target, with less solid defences.
How to manage the challenge:
Dealing with data
Today's organisations are 'drowning in data' – 60% of IT leaders say they're overwhelmed by the sheer quantity of information they're collecting. Not only is data collection pointless if you can't use it, storing it can get very expensive fast. This also raises issues around data security and privacy (especially in relation to GDPR). You need to know what data you're holding, and have a plan to manage it.
How to manage the challenge:
Create a proper data strategy – to clean, organise, store and delete the stuff you don't need
Use tools to extract more value from the data you hold
Future of work
We need hardly tell you that remote working is here to stay. Most organisations have now developed some sort of hybrid working strategy, but this needs to become more formalised in 2023. A lack of direction or clarity will only lead to confusion, resentment, or even security issues. But preparing for the future of work is about more than hybrid working – you'll need to have an eye on next-generation tech too.
How to manage the challenge:
Clear, unambiguous IT support for hybrid working will be key – consistent IT access, support, desk booking systems and other tech will all help
Plan for the potential of emerging tech – particularly AI, virtual reality, and workplace 'metaverse' environments.
On-demand webinar: Hybrid work strategies you should be using
Ready for whatever 2023 brings
If we've learnt anything from the last three years, it's to expect the unexpected. While we believe the above five challenges are likely to feature high in the priority lists of IT leaders, other disruptions are likely.
Ultimately, IT leaders can adapt to the challenges facing their organisations by being prepared for likely eventualities, while being flexible to change. And with a technology partner who really understands your business and the challenges you face, you can be more confident you're ready for whatever the year brings.
FITTS works with a wide range of companies in financial services, manufacturing, food & beverage and transport in Europe and Africa. Contact us today to learn how we can help you prepare for 2023.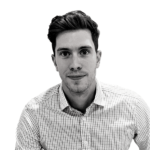 Tom has 8 years of experience working with global teams to deliver strategic digital transformations - helping clients improve collaboration, ways of working, business processes, operations and mobility.
In 2018, Tom opened the East Africa office for FITTS in Nairobi. He is passionate about the impact modern workplace technology is going to have on the way Sub-saharan Africa competes in the global marketplace and the role FITTS can play in supporting that journey.
During the past 8 years of digital transformation, Tom has worked in London, Saudi Arabia and Nairobi for clients such as Barclays Bank, UK Department of Work And Pensions, Unilever, Saudi Telecom Company, MS Amlin Insurance and a nuclear energy generator. However, regardless of the geography or the industry the ultimate objective has been the same – drive change that re-imagines the way people work every day.