Over the past year and a half, Microsoft Teams has had a seemingly unstoppable rise. In March 2020 there were around 32 million active daily users on the platform. But just 11 months later, that number had risen to an astonishing 145 million people.
Organisations around the world have had enormous success deploying the communication and collaboration platform. But is it right for your company? At FITTS, we see evidence of the impact of Microsoft Teams with our clients every day. But if you're building a business case for new technology, you need reliable, hard statistics to inform your decision and provide a baseline for your return on investment.
7 Pillars Of Your Microsoft Teams Benefits Case
Microsoft Teams boosts productivity
According to a study conducted by Forrester, the productivity savings achieved by using Microsoft Teams could be between $8.8 million and $21.7 million. Those are big numbers, so how does Teams do that?
Microsoft Teams is essentially a hub of workplace collaboration tools. You get your communication apps, video calls, meetings and much more all in one place. By having more of the tools you use to do your work in a single platform, you spend less time switching between apps trying to find information. That leaves individuals more time to do their actual jobs.
Reduces travel costs
Prior to the pandemic, how much money would your company spend on overnight trips for staff? According to the Forrester report, using Microsoft Teams will save the average business 150 overnight business trips per year. By conducting more meetings and webinars in Teams, it becomes much less necessary to travel to visit clients or colleagues in other offices. This represents a huge saving in terms of travel and accommodation.
Saves each employee four hours per week
Imagine if every individual at your company worked for an extra half day – what impact would that have on your bottom line?
According to the Forrester study, Teams saves information workers around four hours per week thanks to improved collaboration and information sharing with the app. All that extra time means they can finish more tasks every day.
Cut time spent on onerous tasks
Another powerful impact of Microsoft Teams is that it can cut the amount of time people spend on tasks by up to 75%. One study at a major international business found that the time it took to create a new client proposal was reduced from one month to just one week. The respondents also reported that it saved a lot of stress and effort and meant staff were significantly less fatigued.
Reduces outgoings on telephony
According to a study by loopup, 90% of large enterprises that use Microsoft Teams are planning to replace their existing telephony with Teams. Microsoft Teams allows you to perform video calls as well as making and receiving landline and mobile calls. By using Teams, your business can close its existing telephony accounts and eliminate that cost base entirely. .
Reduce shadow software costs
One major benefit of Microsoft Teams is that it provides most of your communication and collaboration tools in one single place. Rather than having to switch between multiple apps from different providers, Microsoft Teams gives you the same features in a single place.
Why pay for Slack's chat features or WebEx's video call tools, when you can get both call and chat right within Teams? If your organisation hosts large webinars and virtual conferences; save your GoToWebinar subscription and leverage Teams Live Event.
By cutting back on unnecessary software subscriptions, you could save thousands of pounds per month. What is more, Teams is continually being updated to bring you more features.
Improved employee engagement
A happy employee is a productive employee. And, a variety of statistics show just how much of an impact Microsoft Teams has on employee satisfaction.
The Forrester study found that 88% of employees feel Teams helps them save time. That means less frustration, and the research even suggests this could reduce the number of employees leaving the company. What is more, Teams can reduce the costs of onboarding staff by 17%, and it includes many features that make tech more accessible for all.
By allowing all your employees to work more efficiently and get more work done, they develop a higher sense of job satisfaction and feel less frustrated. This means fewer people want to leave the business. In turn, that brings down the costs of employing new staff.
Case study: See how one firm adopted Microsoft Teams
Ready to begin building your Microsoft Teams business case?
The change that businesses experience when Microsoft Teams is deployed can be genuinely transformative. At FITTS, we often see the immediate impact it has on our customers – from improved employee satisfaction to time saved and increased productivity.
Download our eBook to learn how your organisation can begin using Teams. Or contact us today for support migrating to Microsoft Teams.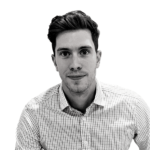 Tom has 8 years of experience working with global teams to deliver strategic digital transformations - helping clients improve collaboration, ways of working, business processes, operations and mobility.
In 2018, Tom opened the East Africa office for FITTS in Nairobi. He is passionate about the impact modern workplace technology is going to have on the way Sub-saharan Africa competes in the global marketplace and the role FITTS can play in supporting that journey.
During the past 8 years of digital transformation, Tom has worked in London, Saudi Arabia and Nairobi for clients such as Barclays Bank, UK Department of Work And Pensions, Unilever, Saudi Telecom Company, MS Amlin Insurance and a nuclear energy generator. However, regardless of the geography or the industry the ultimate objective has been the same – drive change that re-imagines the way people work every day.